You got your bike license (after taking a rider training course, obviously). You bought the bike. That just about does it for purchases, besides of course the helmet and the leathers. Right? If only it were that simple.
The list of pending purchases to go with your new activity has merely begun. That is by no means a bad thing; like most sports and interests, the list of products available to enhance and accessorize your riding experience is virtually endless. Once you get started, buying extra stuff becomes an increasing obsession. You start visiting stores and dealerships frequently, checking out all of the cool things they have to offer.
Let's start with the helmet. The first issue in choosing a helmet is ensuring that it is DOT approved. You also need to ensure that you get a proper fit; an improperly fitted helmet is not going to do its job effectively, and if there is one thing you need to protect it's your head. Visors, goggles or glasses can also figure into this decision since there are huge bugs, potentially stones, etc., that can hit a rider in the face. After all of the safety criteria have been met, the style, colour, design, manufacturer, and any other cosmetic issues are matters of taste, style, and budget.
Now you need leathers, boots, and gloves. All leather is not created equal. Riding leathers are thick for a reason; the difference that they make in protecting bodies against asphalt and cement is dramatic. Denim is not adequate for any but the most minor spill. Leather apparel for riding comes in endless styles and colours, and the price range is just as various. The most important thing is that, ultimately, the rider's entire body, from ankles to neck, is covered in riding leather. This includes motorcycle gloves and riding boots. Everyone's style and comfort requirements can be met these days without having to compromise safety.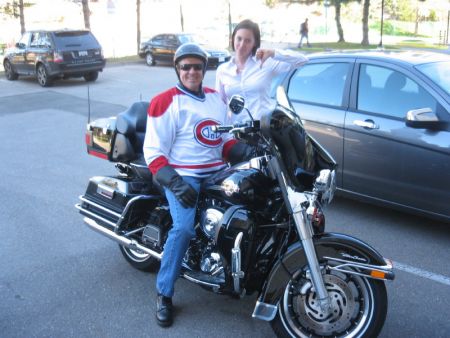 That gets you out on the road. However, you might want to trailer your bike down to Daytona in February, for example. There are endless sizes of trailers with which to do so, and each comes with bells and whistles that you haven't thought of until you see it. You might want to add a centre stand to your cruiser, or purchase heating or cooling apparatus for your rides in less temperate conditions.
Trailers to pull behind your bike are available in any variation from tent trailers to utility trailers. Saddlebags of all shapes, sizes, and designs can be purchased for your bike as well, and back rests, windshields, chromed replacements for various parts… someone has thought of every conceivable item to suit every function and every quirk.
There are all kinds of products out there on the periphery as well: caps, t-shirts, models, games, toys, mugs… you get the idea. Every time you pull out your credit card to get another accessory that's related to your riding hobby, you can feel good knowing that you are keeping the economy humming along. Your spouse will certainly agree with that sentiment, right?