We all have our ways to fight stress and anxiety. Some of us find that running is a great way to vent, others like to take a nice long walk, and some like to take a ride on their motorcycle.
Motorcycle riders have known about the many health benefits of riding for over a century now, and now there's proof to the claims. A recent neurobiological study conducted by a team of researchers at the University of California has confirmed that motorcycle riding indeed helps improve overall health.
The study found that riding a motorcycle decreases levels of cortisol, which is a hormonal marker of stress. According to Dr. Don Vaughn, the neuroscientist who led the research team in the recent study named "The mental and physical effects of riding a motorcycle," the benefits of motorcycle riding might be "significant for mitigating everyday stresses."
The UCLA research recorded participants' hormone levels and brain activity before, during and after riding a motorcycle, along with driving a car and resting. The results have shown that the participants experienced resilience to distraction and increased sensory focus when riding.
So what are the health benefits of riding a motorcycle?
Increased alertness
Riding helps you stay aware of your surroundings. In fact, the UCLA research found that the increase in alertness is similar to drinking a cup of coffee.
Improved heart rate
On average, a 20-minute ride increases heart rate by 11%, while adrenaline levels rise by 27%. The results are similar to light exercise.
Stress release
Riding a motorcycle decreases stress biomarkers by a whopping 28%.
Improved focus
Motorcycle riding enhances sensory focus. When compared to driving a car, the results resemble those observed in experienced meditators versus non-meditators.
Ride like your health depends on it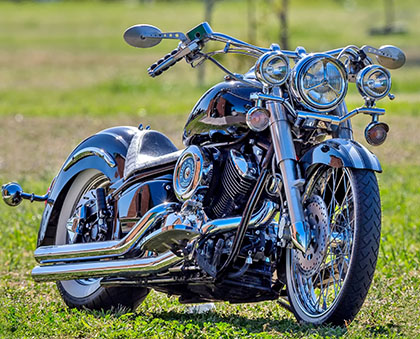 Motorcycle riding is a passion and a lifestyle. The road, the constant monitoring of your situation, angle, posture, speed, road conditions – all of these help you take your mind off the unnecessary things. Riding sets your mind at ease, and it is highly likely that you will take some of that mindfulness with you once you get off the bike. As Heather Malenshek, Harley Davidson's senior vice president puts it: "There's a vitality and heightened sensory experience that comes from the freedom of riding a motorcycle."
According to a report made by Mental Health Canada, mental health problems affect most of the population in one way or another: "In any given year, one in five people in Canada experiences a mental health problem or illness and it affects almost everyone in some way." With stress being the leading cause of mental health problems, it is important to know that there are ways to build resilience and keep your mind sharp. Exercise, eat well, sleep well and, by all means, ride!
When it comes to motorcycle insurance, Riders Plus is here to help. Contact us today!