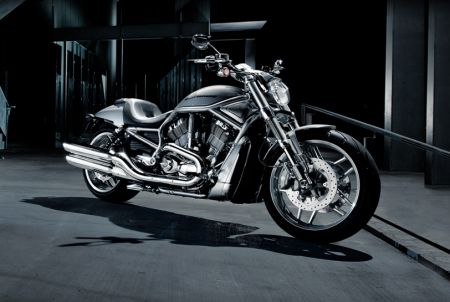 The V Rod burst onto the Canadian motorcycle market ten years ago as a Harley totally unlike the ubiquitous Sportsters, Softails and Dynas. This new model was supposed to appeal to the 20 somethings who weren't drawn to the traditional Harley Davidson models, riders who wanted sleek and fast and cool but didn't particularly care about plastering chrome all over their ride or paying extra dollars for flashy paint. In other words, Harley Davidson was trying to attract guys who would normally ignore Harley Davidson, and in so doing they intended to enhance and grow the brand. Certainly a big challenge when you consider how clearly defined the Harley Davidson brand is, and how successful it is as well.
As always, however, the homework was done exhaustively, both technically and from a marketing perspective. The results, if you ask most 20 something (and older for that matter) riders, were very successful.
A liquid cooled engine that did not create the trademark sound was one of the first noticeable changes. This engine was actually developed with Porsche, another inimitable brand name in vehicular design that is irreproachable when it comes to quality engineering. The resultant engine claims 0 to 60 in 3.5 seconds, the quickest production Harley ever with the highest claimed horsepower of any Harley production bike at 115.
Every aspect of the newly engineered product was carefully considered to ensure reliability and performance. The new look of the V Rod was very distinct and didn't appear to borrow from anything else or imitate anyone else's models. The gas tank being situated under the seat, for example, is relatively unique among mainline motorcycles in the North American market.
Some predictable – and well considered – moves that made the V Rod a well integrated member of the Harley Davidson stable included the introduction of CVO models and of popular "Night Rod" versions. But Harley Davidson showed that beyond strategically expected moves they can be very creative as well when they introduced the "Destroyer" model. The Destroyer was a limited edition drag racing version of the V Rod, a high performance model with all of the bells and whistles of a dragster. Boldly painted the coroporate black and orange, these bikes were raced in a well defined series of races pitting specific crews against each other. These bikes were not, of course, available to the public. The resultant hype and excitement generated by this bike which was also available for viewing at various motorcycle trade shows was hugely successful.
Even the television ads for the V Rod are aimed at the younger generation. One ad shows a young guy standing and admiring a parked V Rod and, when a girl walks up and compliments the bike, he starts acting like it's his bike until a different girl walks up and rides away on it. As always, Harley knows how to target their audience, and sales of the V Rod continue to demonstrate that they definitely have a winner once again.