Cruisers are arguably one of the most recognizable and iconic styles for motorcycles around the world. When most people think of motorcyclists they see riders donned in leather on a cruiser sending dust up behind them on an open road. They exude the pure essence of freedom, working in tandem with a rider's most inner desires for freedom. Cruiser motorcycles truly are about the freedom of the open road and the essence of comfortable travel. Cruiser motorcycles are a North American phenomenon and in more recent years, they have swept across the world as a desired form of travel. But where did cruisers begin? How did they get so popular? And why do we love them so much?
Before we begin it's important to specify what we classify as a cruiser. The cruiser motorcycle, in general, has a relaxed seating position and low seat height, low-revving engines, and produces massive torque- often you'll find limited suspension and low ground clearance. These attributes make them ideal for long distances on the open road. The genre of the cruiser, however, is not limited; it's been seen mixed into touring motorcycles and choppers as well. 
The Early Years
Arguably the first cruiser was created with the inception of the motorcycle itself in the late 1880s. Through many designs of motorized bicycles in Germany, France, Japan, and England, the movement soon moved spread to America. In 1901, Indian Motorcycle (Originally Hendee Manufacturing until 1923) opened its doors to the world. In 1922, the company released perhaps the most iconic of cruisers to date, the Indian Chief.
In 1903, two years after Indian Motorcycle began, Harley-Davidson Motorcycles was born. Together, the two American brands took over the continent with their uniquely styled machines. Harley-Davidson soon after became one of, if not the largest manufacturer of motorcycles.
Military Presence 
When the United States entered World War l in 1917, they utilized approximately 20,000 Harley-Davidsons and 50,000 Indian Motorcycles to use for various tasks. There were also a few smaller US manufacturers that made it over to Europe, like Henderson and Excelsior. While Indian gave all of its motorcycles to the military they inherently cornered themselves, leaving no leftover motorcycles in America for its dealers, Harley-Davidson however had the extra manufacturing ability and was able to provide for those dealers.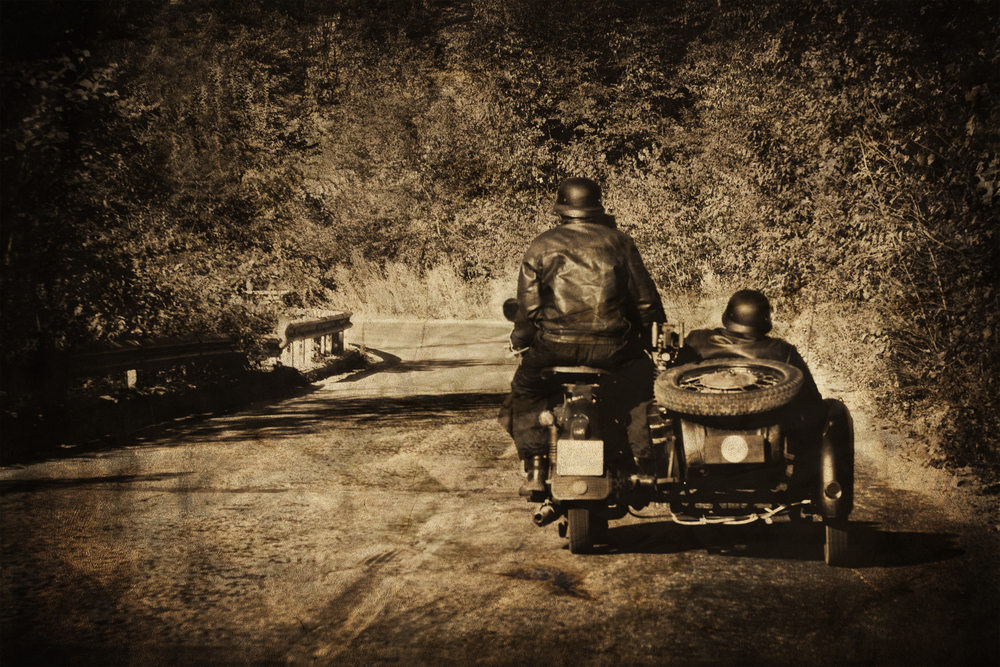 Example of iconic sidecar-style motorcycle usage in military operations
International Industry 
Once World War I ceased in 1918, the Treaty of Versailles was signed. This demanded that BMW stop production of aircraft engines (their primary business at the time). In order to remain in business, BMW had to act fast and shift to small engines. In 1920, the BMW M2B15 flat-twin gas engine was created and was used by many motorcycle manufacturers. Then in 1923, the iconic BMW R32 motorcycle was released using an updated flat-twin; or Boxer engine. This was one of the first real cruiser-styled German machines to come about.
By 1920 Harley-Davidson had become the largest motorcycle manufacturer in the world, with dealerships in over 67 countries. However, no one was safe during the Great Depression and the effect rippled throughout the whole motorcycle industry. For Harley-Davidson, sales dropped from $21,000 in 1929 to $3,703 in 1933. All companies struggled during the Depression, impressively though, Indian Motorcycles kept its head above water and continued development through these difficult times.  
World War II 
War had broken out again in 1939, and again Harley-Davidson and Indian Motorcycle stepped up to help. Harley-Davidson became popular through the military with its WLA motorcycle, while Indian Motorcycle offered up its Scout 640. Although both vehicles were redesigned for military use, the Scout 640 was often said to be too heavy to function well in a combat environment. 
By 1945 Indian Motorcycle was in crippling debt, something that caught up with them in 1953. At that time the call was made and production on their motorcycles ended- many thought the iconic cruisers would never see production again. 
Harley-Davidson continued to dominate the cruiser market and released iconic models that have remained in its lineup ever since, like the Sportster. In 1969, Harley-Davidson's parent company, American Machine and Foundry, slashed workforces that resulted in a labour strike. They implemented many cost-cutting tactics, resulting in more expensive motorcycles with inferior performance. Harley-Davidson's reputation was slowly being tarnished and the name was soon mocked. Riders would refer to them as "Hardly Ableson", and "Hogly Ferguson" a name that was soon shortened to "Hog".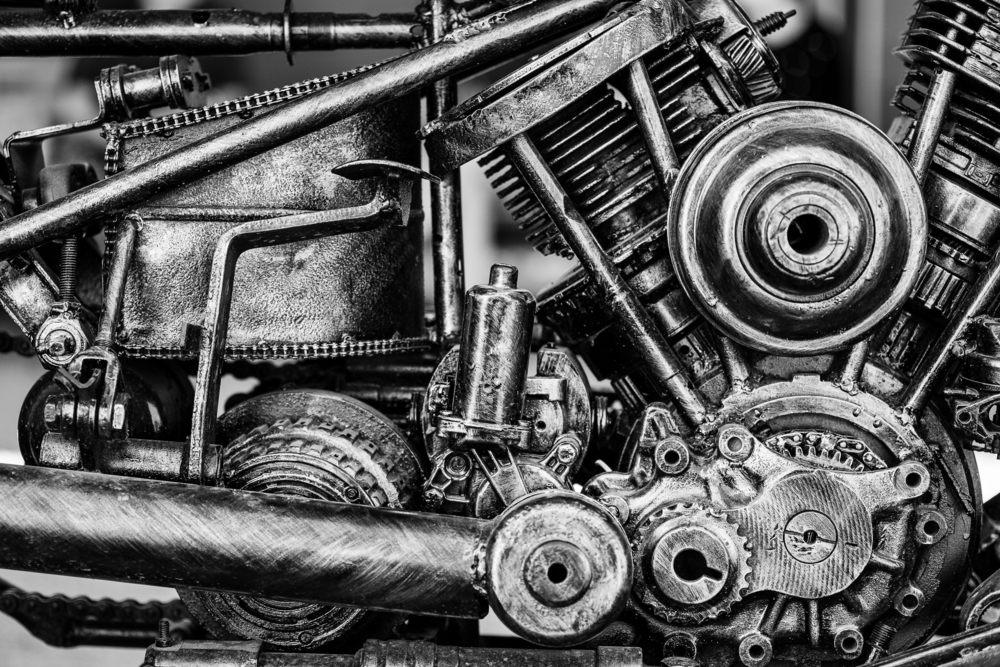 Easy Rider 
A prolific film that everyone will remember for wild motorcycles, and somewhat questionable acting seen throughout the movie. Easy Rider set cruisers on a completely new track, creating the embodiment of a culture, and the idea that your bike, with a few new parts, could become a chopper. Harley-Davidson sales were down but they hoped that with this film's release they could boost their margins again by producing stock machines with aesthetic parts from different models, thus saving them money and creating "chopper-styled" machines. This inherently sparked the interest of every brand and soon the invasion of the cruiser really started. 
Swinging 70's 
While Indian Motorcycle was non-existent and Harley-Davidson was sinking, North America saw the introduction of the "Universal Japanese Motorcycle" (UJC) in the early '70s. This range of models included the Honda CB750, as well as the Kawasaki Z1, followed by the Suzuki GS750 and the Yamaha XS models. Riders were immediately drawn to these bikes, as they were maneuverable, easy to ride, and most importantly, less expensive than a Harley-Davidson. Along with the Japanese brands making a splash we also saw many European brands sweep through the continent, such as Moto Guzzi which released the iconic California motorcycle in 1972. It was soon made famous by the California Highway Patrol. 
Once the '80s and '90s hit, the desire for UJC's was dwindling and soon Japanese manufacturers changed to more specific and niche bikes like Touring, Sportbikes and Cruisers. In 1983, Honda released the Shadow, an incredibly popular cruiser that was affordable, reliable, and offered several different engine sizes to appeal to all riders. In 1984, we saw another iconic bike come to market, the Kawasaki Vulcan, although back then it was known as the VN700A. In 1985 the iconic Yamaha VMAX hit the scene.  
A New Century 
In 1998, cruisers were at the top of their game within the motorcycle industry, with almost every brand including multiple cruiser motorcycles within their model lineups. It was then that Triumph began a project bike called the Rocket III. This is, to date, one of the largest engines ever created for a motorcycle, sitting at well over 2,200 cc. 
In 1998, we also saw the inception of Victory Motorcycles, a company that filled the gap made by the loss of Indian Motorcycle. Victory was an American brand, started by Polaris Industries built to rival the popularity of Harley-Davidson. Their flagship bike, the V92C was well received and although they never had record sales, riders that owned a Victory were loyal to their machines. Victory continued creating unique cruisers with sleek styling until 2017 when they closed its doors. 
In 2006, Indian Motorcycle was reborn and in 2009 the Indian Chief was released. Then in 2011, Indian Motorcycle was purchased by Polaris Industries, leading to a surprise switch in 2017 where Polaris decided to cut the Victory brand and shift resources into Indian Motorcycle. 
In the past three years, Harley-Davidson has seen a lot of ups and downs, almost shutting down due to a loss in sales revenue. They've adapted to offering new models and, although controversial to long-time loyalists of the brand, Harley-Davidson is doing well with its new electric model, the Livewire, and its new Adventure Touring platform, the Pan America. 
In the past decade, we've seen a large revival of the cruisers, with many brands offering Power Cruisers and Cruisers harkening back to the root of the companies. For instance, Ducati released its Diavel, which merged the balance between a sportbike and cruiser, released in 2010. The BMW R18 release was also highly anticipated, and is an eye-catching cruiser with the largest Boxer they've ever produced at 1,802 cc; the R18 pays homage to BMW's first motorcycle the R32. 
Although motorcycles have changed drastically throughout the years, one thing remains the same- the feeling you get when you sit on your cruiser and take off on your next journey. It's indescribable, unforgettable, and the thing that keeps us on our bikes insured by Riders Plus every year. So when you get on your bike this spring, take a moment to appreciate all cruisers that came before yours- all the brands that innovated and evolved throughout history and the people that strived to make something as incredible as your motorcycle.