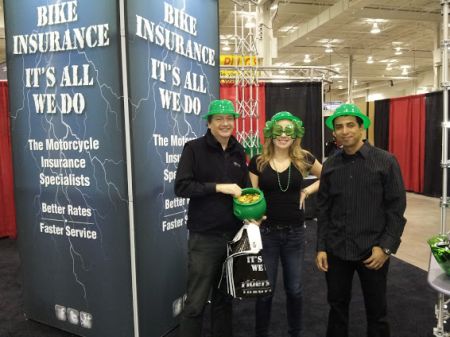 The crowds in the International Centre's Halls 1, 2, and 3 were thick by early afternoon on the first day (March 16th) of the International Spring Motorcycle Show. Smiles were contagious; these people were here, not to be distracted from the dreariness of a winter with no end in sight, but to get loose ends wrapped up before the day that they can get their bikes fired up and on the road, a day that could come at any time now.
The direct presence of three major motorcycle manufacturers –Yamaha, Honda, and Kawasaki – over and above the dealership booths was a major draw for the motorcycle-loving public. People crowded into these booths to check out the new, much-hyped CBR500 by Honda, for example, and they weren't disappointed.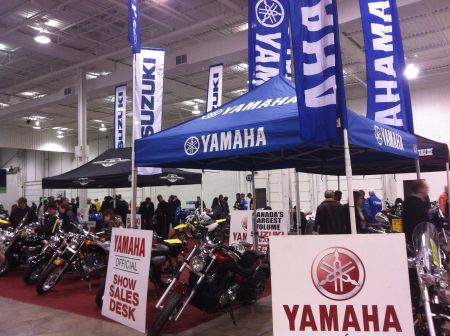 As always, it was great to see and chat with current clients of Riders Plus Insurance, as well as some of our fellow product and service providers in the motorcycle community. Learning Curves, Humber College, Rider Training Institute, and Ontario Motorcycle Safety Association all had booths close by the Riders Plus location, and it was a real pleasure to see their representatives and to refer show attendees looking for more information on motorcycle rider training to their booths for professional advice. It's always gratifying to see the excitement in the eyes of new riders who are learning all about different aspects of their new chosen interest.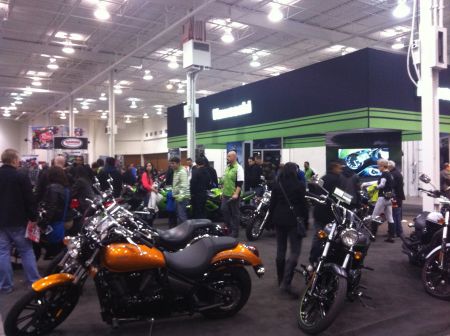 A lot of riders both new and experienced got excellent deals on leather clothing such as gloves, jackets, and chaps from some of the sellers in attendance. Helmets as well, for example, were priced to move at many of the booths throughout the show.
As always, we were pleased to have the opportunity to catch up with our pals at Motorcycle Mojo Magazine and find out what's hot and what's not in the world of motorcycle journalism. Glenn, Roger, Martin, and the gang never fail to entertain and confound with their boundless energy and endless capacity to question and observe. And they can make you bust your gut laughing, so brace yourself if you approach their booth!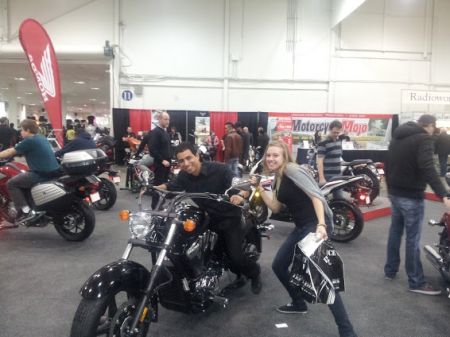 There were lots of used bikes in excellent condition for sale across the aisle from the Riders Plus booth, and a lot of people spent a lot of time looking these bikes over and considering their options.
There were lots of clubs in attendance as well, of course, which really ramps up the social aspect of the show as club members mix and mingle and share their common obsession with motorcycles. The Brampton Motorcycle Association did a sterling job of providing help at the doors as they have always done. The VMax Owners Association had a booth in Hall 1 and their members all looked like they were really happy to be there, which is fantastic.
Charity rides such as the BAD Ride and the Ride Against Hunger had booths manned by tireless volunteers, raising awareness for their important causes and for the extremely fun rides that they organize to raise critically needed funds for these causes. It's always an honour and a pleasure to touch base with these great folks at shows.
So now the motorcycle show season is over for another year, but more importantly, the riding season looms in the very near future. Check out the Riders Plus Insurance website for links to many of the product and service providers for Ontario motorcycle riders, and even to get a quick, affordable motorcycle insurance quote.
Have a great riding season in 2013!