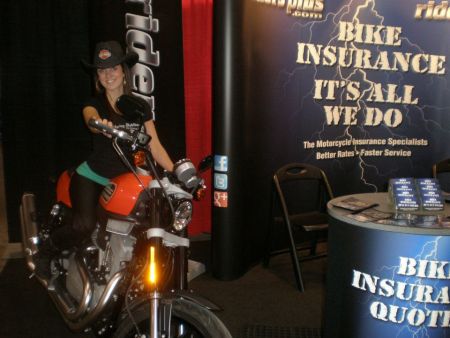 One thing we can always predict is that the International Spring Motorcycle Show will be an event that is always worth the visit for Ontario motorcycle enthusiasts. We cannot, with any degree of accuracy, predict the weather for the weekend of the event, though. And since this show usually took place in April, it was always reasonable to expect reasonably Spring-like weather. However, coming almost a month earlier than usual, we fully expected this show to suffer a bit of blowing snow, especially considering that the weekend of every other preceding motorcycle show in Ontario in 2012 was plagued by snow, hail, sleet, and whatever else Nature could throw into the mix.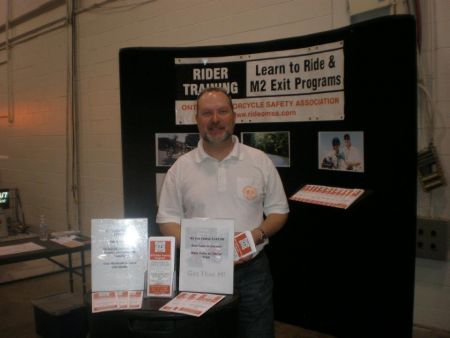 Sunday March 18th especially turned out to be indistinguishable from a picture-perfect summer day. Saturday March 17th began with a fairly heavy shroud of fog, but despite a bit of drizzle and chill the day turned out to be mild enough that dozens of motorcycles were parked row on row outside the event halls.
Sales of motorcycles, helmets, leather outfits, and all sorts of other motorcycle-related products and services were brisk all weekend long. The deals were truly exceptional throughout all three halls. Happy customers roamed the halls with helmet boxes and new tires in hand.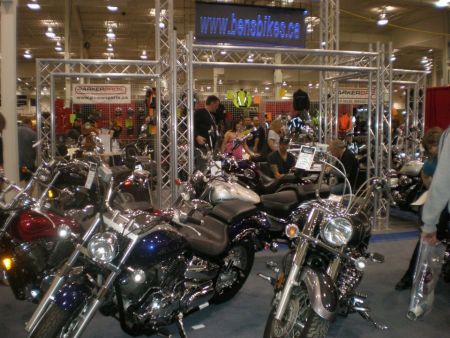 As always, charity rides large and small had a presence at this show.The BAD Ride, which takes place May 27th, had their usual impressive display manned by their cheerful volunteers. The Ride for Dog Guidesseems to be really making some great progress since they will have three routes and dates in 2012, and in only their second year. The Ride for Dad continues to have a very effective and professional presence, growing impressively as they raise even more funds for an incredibly widespread issue (prostate cancer) that urgently requires the attention of everyone.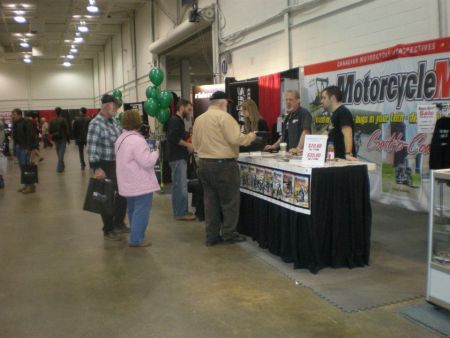 Motorcycle dealerships from across Ontario had impressive displays of motorcycles, clothing, and accessories that were moving briskly.Kahuna Powersports, Classy Chassis, Ben's Bikes, GP Bikes, and Brampton Powersports were all running off their feet signing deals and talking to clients. "Sold" signs were cropping up on displayed motorcycles all over the show area.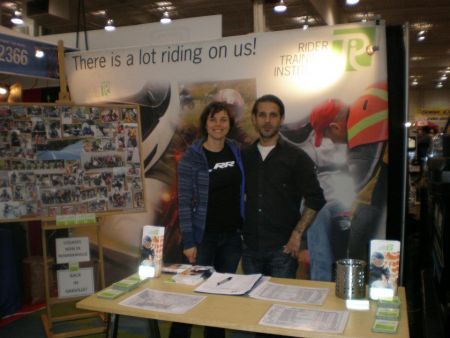 Rider training course providers were on site to sign up new students for classes (many of which are already filled for March) and to answer questions and give advice. Rider Training Institute, Learning Curves, Humber College, and Ontario Motorcycle Safety Association all kept busy, because it seems there is a lot of interest from people looking to get into riding motorcycles. And after all, is there any form of transportation that could possibly be even remotely as exciting?
And as always, Riders Plus Insurance was on hand to meet new riders, catch up with existing clients, and to hand out information to anyone who was or will be looking for motorcycle insurance quotes and advice.