It's the beginning of a new season and you've decided to buy a motorcycle. Good for you! It's an exciting time, but it's also a stressful time. There's substantial money involved, a lot to consider, and you don't want to make a mistake. Perhaps the first decision you have to make is whether to buy a new or a used bike. There are pros and cons of each, and the process is slightly different. Here are a few tips and considerations as you venture into the moto market.
Buying New
For many, buying new brings peace of mind. You get a pristine bike you know hasn't been abused or poorly maintained. It's also not likely to have any problems on the road, and it comes with a full warranty in the unlikely event that it does. Many manufacturers also offer a year of roadside service if there is a problem and in a range that even surpasses CAA+. I know someone who traded in her used bike and bought new just so she could tour in confidence. She's okay with basic maintenance but not confident enough for venturing into remote areas on an old bike.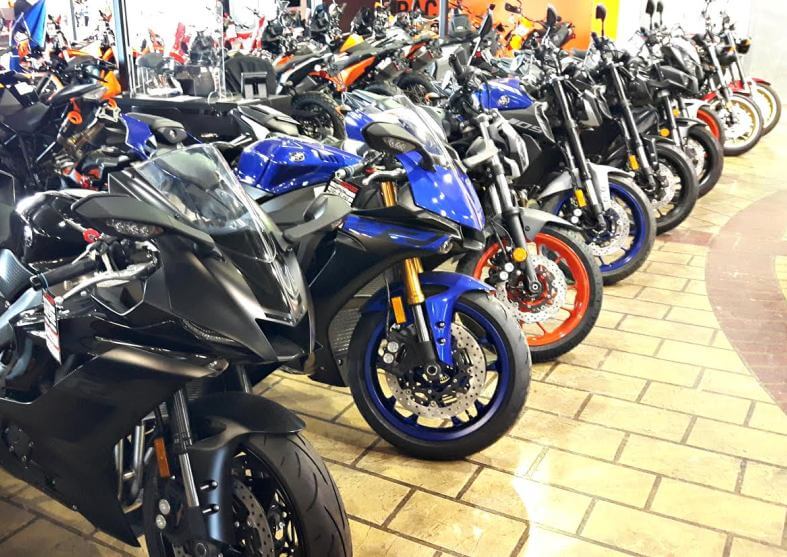 But with that warranty comes some additional costs in maintaining it. You have to take the bike in to an authorized technician at regular intervals, so budget for that. That same person was happy for the peace of mind but complained later of $500 oil changes! Be sure you know what maintenance you can do yourself and the service costs you can expect for the remainder of the warranty.
The other nice thing about buying new is that you get the latest technology. We are living in the golden age of motorcycle technology, with cornering ABS, rider modes, adaptive lighting, and electronic tire pressure monitors making riding safer than ever. Some of these systems were not available even a decade ago, and who knows what the future will bring. Buying new means you don't have to wait to enjoy the latest motorcycle technology.
Buying Used
For others, buying used makes more sense and can save a considerable amount of money. Bikes depreciate fastest in those early years, so buying a bike that is a few years old can save you a lot. But what you save in money you pay for in risk. There are more factors involved in buying used, but being aware of them can help save you from making a mistake.
If you buy a used bike from a merchant (i.e. not a private seller), you are covered by an automatic Good Working Order warranty. Depending on the age of the bike, this can vary from one to two months after sale, usually enough time for a hidden issue to reveal itself. (Make sure you buy, then, when you can ride a lot in the coming month(s).) Quebec, with its civil law system, has a similar automatic legal warranty called the Reasonable Lifetime Warranty. If you're lucky, there might even be a little left on the original warranty by the manufacturer or dealer, which carries over to you, the second owner. And you can always purchase an extended warranty too, so the bottom line is you can decide on the level of risk you are willing to take on purchasing a used bike. Make sure you discuss these options with your salesperson.
If you buy from a private seller, there is no warranty and you are buying the bike "as is." With this type of sale, obviously the risk is highest so the cost is lowest. The biggest concern is that you buy a bike that has a serious issue that you only discover later. However, you can mitigate a lot of that risk by getting the bike inspected by a trustworthy mechanic. Yes, you can ask the seller to meet you at a local garage for an inspection. You may pay $100 for the inspection, but you will have the peace of mind of getting a pretty good idea of the state of the vehicle. You probably wouldn't buy a used car without getting it inspected; well, the same should apply to buying a used bike. If the seller isn't willing, that's a good sign to walk away.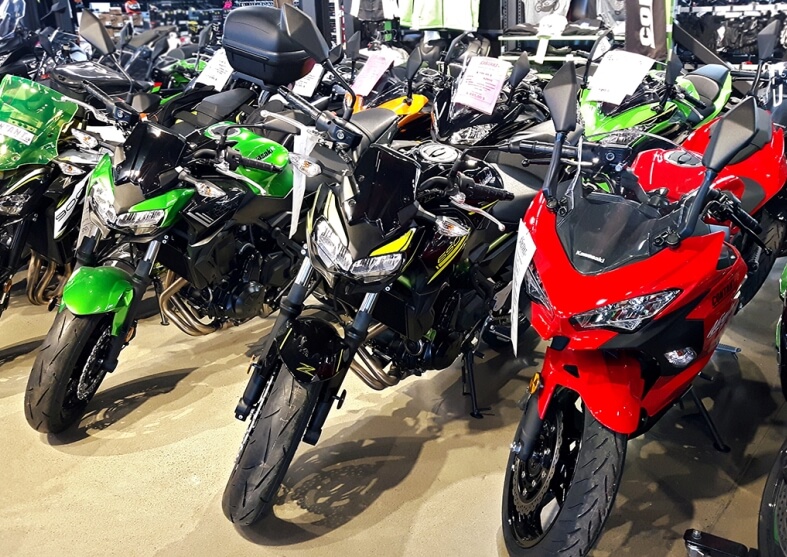 Evaluate the Seller
For both new and used bike sales, remember, you are evaluating the seller as well as the bike. For new, you want to establish a relationship with a good dealer, since you'll be back in for service, parts, and maybe gear. Perhaps I'm a bit old-fashioned, but I think you can tell a lot about a place from observing the staff. Are they happy? Do they seem to like their work? That's often a sign of a good dealership. Has the salesperson earned your trust by being informed and transparent? A friend of mine was being quoted 20% higher on accessories by a salesman, and when she pointed out the price difference online, he blamed the "tech guys" for not updating the site. Another said a bike she was interested in wasn't available in the colour she wanted because he wanted to move a bike he had on the showroom floor. Needless to say, she didn't buy from either of those dealers.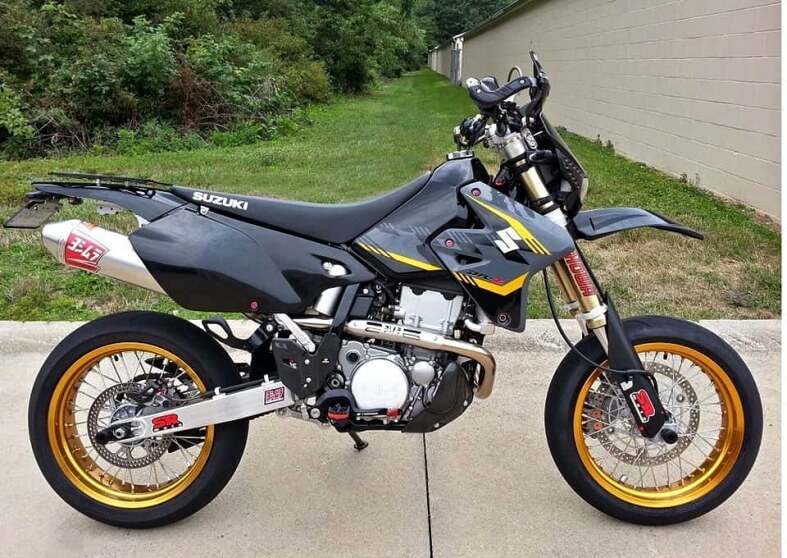 Evaluating the seller is even more important in a private sale. This is the person who has been maintaining (or not) your future baby, so can you trust them? Evaluating a private seller begins with evaluating the ad. Are there plenty of high-quality photos from a variety of angles, and is the description detailed and accurate? It is up to the seller to earn your trust. I think we all have pretty good intuition in evaluating character, so if you aren't getting a good vibe about a salesperson on the showroom floor or a private seller on a driveway, you might want to move on.
The Brass Tacks
Okay, let's get down to the negotiations. It may come as a surprise to you, but there isn't a lot of mark-up on new bikes, so don't expect to haggle a sweating salesperson down. In fact, for many manufacturers, the asking price across dealerships will be the same as that listed online. Some manufacturers do not allow their dealers to sell below a minimum MSRP. But if you are buying new, you can save considerably by buying last year's model; the dealer will be eager to move that stock. Some dealers will add on a PDI (Pre-Delivery Inspection) fee, and you can often get a dealer to drop that, offer in-store credit on accessories or service, or some combination of both, especially if you play one dealer off another. Another way you can save some money is in the financing. If you go with documentation in hand for a pre-approved loan, you can often save by negotiating a better interest rate through the dealer's bank.
When buying a used bike from a private seller, my best advice is to know before you go. Know the value of the bike you are seeing. Start researching for several months prior to buying a bike by watching the usual places online like Facebook Marketplace, Kijiji, and Craigslist. Get a good reference point that you can use in your negotiations, depending on the specifics of the bike. If you have cash in hand, the seller should let you test ride it. Once you are confident that this is the bike and you have decided on a price, it's time to make an appointment at the licensing bureau. Remember, you will have to pay tax on the purchase at the time the registration is transferred and you get your new plates.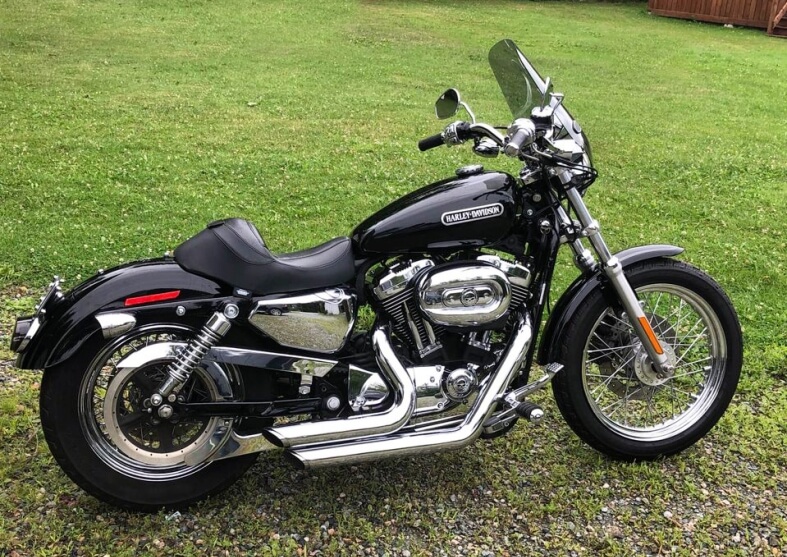 Parting Advice
Whether buying new or used, research well before you go look at a bike. Compare dealerships and don't be afraid to travel to one that offers the best deal. When buying used, take your time researching, but be ready to move fast when the right bike comes along. Finally, whether it's for a test ride or your first ride, don't forget to give the bike a thorough visual inspection before hitting the highway.