The first time I went moto-camping, I pulled into my campsite and started gathering firewood. A lady from a neighbouring campsite wandered over and, in the process of telling me that I'm supposed to buy the firewood not gather it, she said something that struck me at the time: "My husband is so jealous!" Okay, normally you don't want anyone's wife saying that to you, but in this case, I was safe: the jealousy was all for my freedom.
Moto camping is the most liberating experience I can think of. You have all your essential needs on the motorcycle, so in addition to the freedom of riding, you have the freedom of where to stop for the night. There is economic freedom, too. I extend my budget by doing all (or most) of my cooking; my bike gets about 25 km/L, so the gas is cheap; and by camping, I avoid paying hundreds of dollars a night for accommodations.
But all this freedom comes at a cost. You can be caught in bad weather, and you sometimes have to sacrifice comfort. There are animals and other risks to consider. And let's face it, camping is sometimes a lot of work!
If you're interested in motorcycle camping, here are my top tips for getting started or enjoying it more.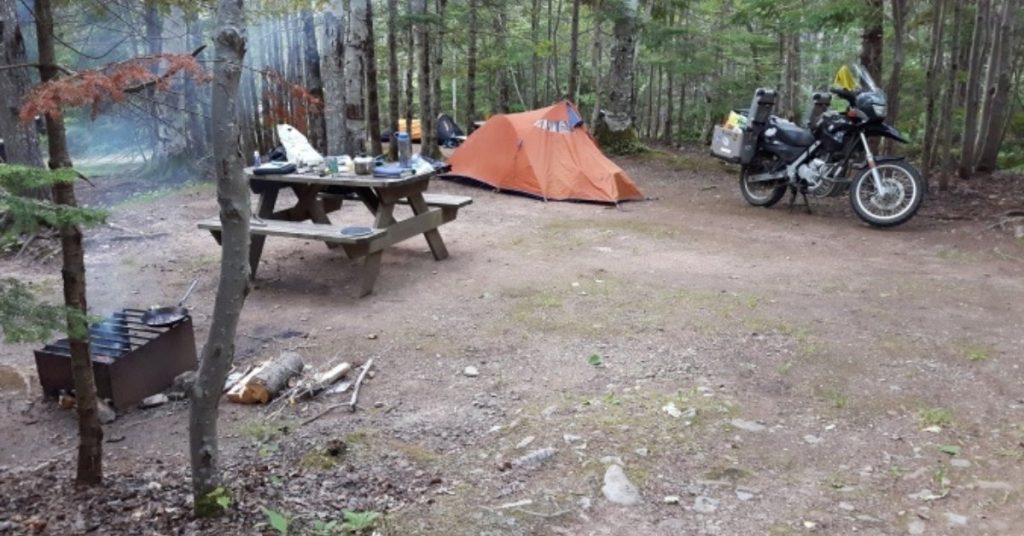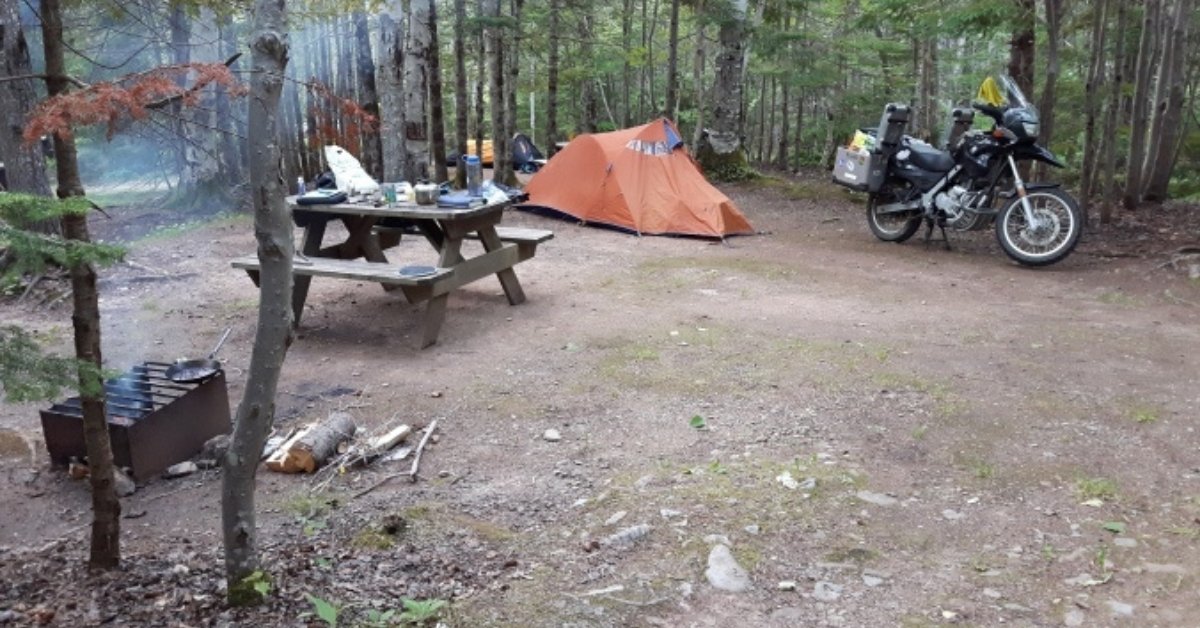 String Your Food
The biggest concern of most people starting out moto-camping is attracting animals. You don't have the benefit of being able to keep your food in a car. Some campgrounds will drop a bear box at your site but not all, and if you're wild camping (i.e. camping on crown land), that's not an option. So string your food from a nearby tree.
Tie a heavy stick onto the end of your rope and throw it over a sturdy horizontal branch at least 12' high, then re-tie to your pannier or wet-dry bag, hoist, and wrap the rope around the tree.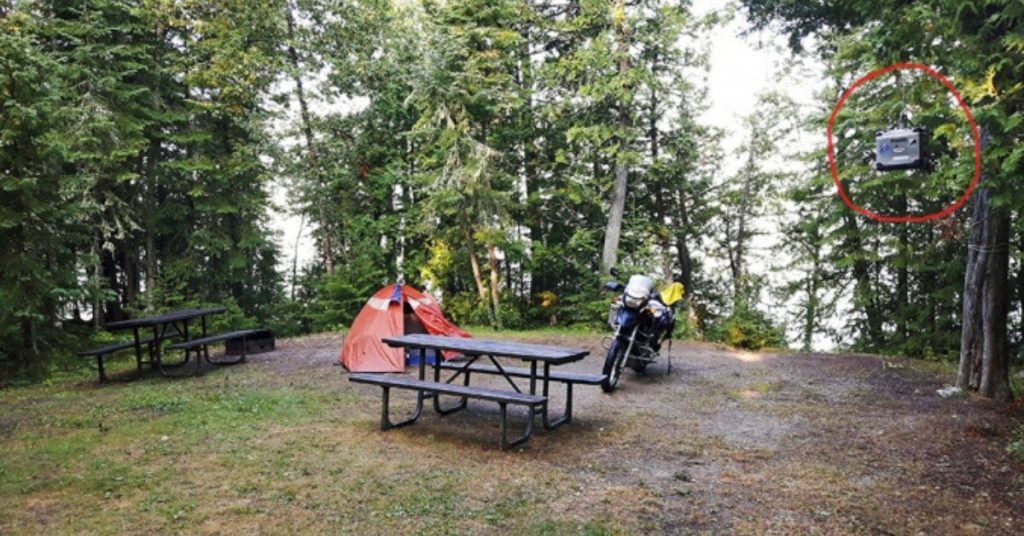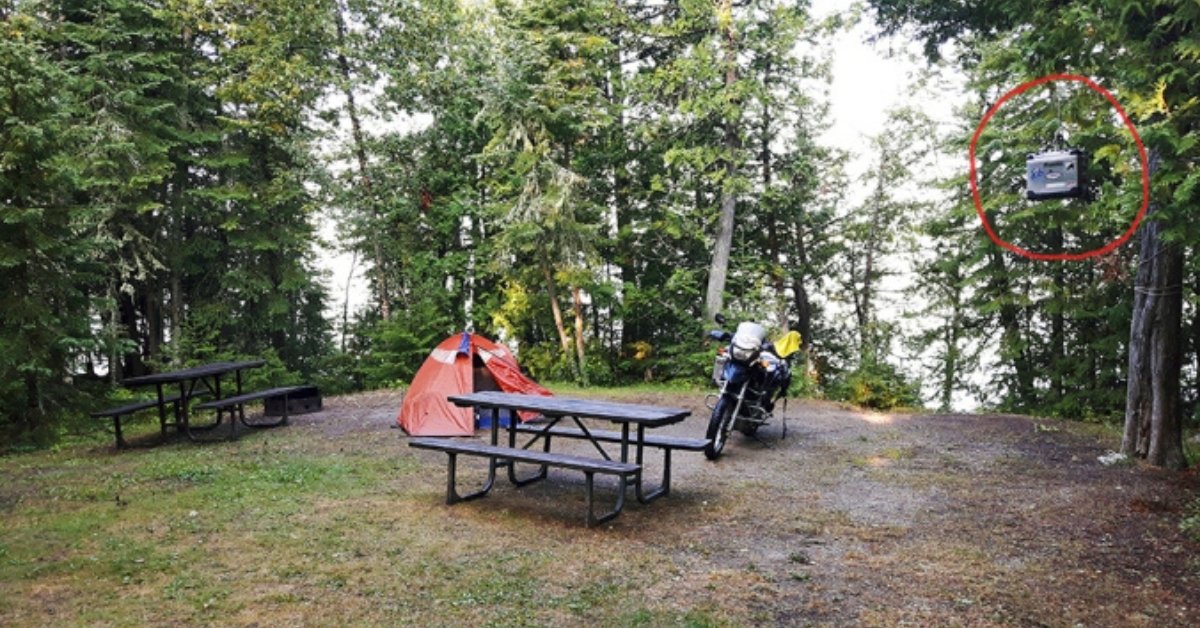 Nothing smelly in the tent
This one may not be obvious to the newbie, but you shouldn't have anything in the tent that is smelly and might attract animals. No gum, or toothpaste, candy, food of any kind, perfume, suntan lotion, even mint-flavoured dental floss!
Bears have very good noses. I put all that stuff in the food bag and string it. It helps me sleep better knowing it's all stored safely away.
Use non-perfumed soap
Yes, there's a theme here. Get a good biodegradable, non-perfumed soap for the dishes, your body, and your hair. Aside from going easy on the environment, a non-perfumed soap will not attract mosquitos and other bugs, not to mention animals.
Also, do not use any product in your hair as this too will attract bugs. You can't be vain when camping! And going without your hair product means your helmet liner will not get greasy and grimy.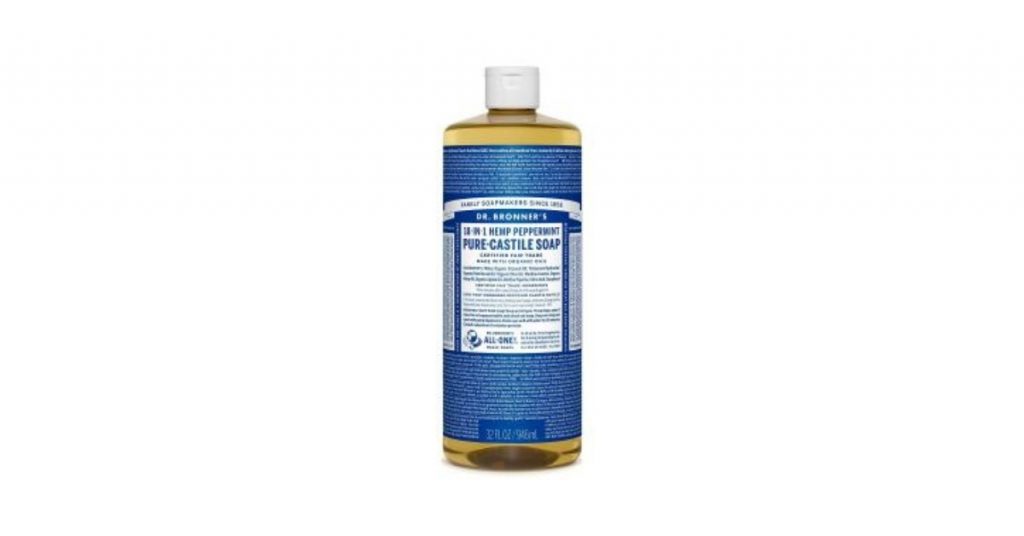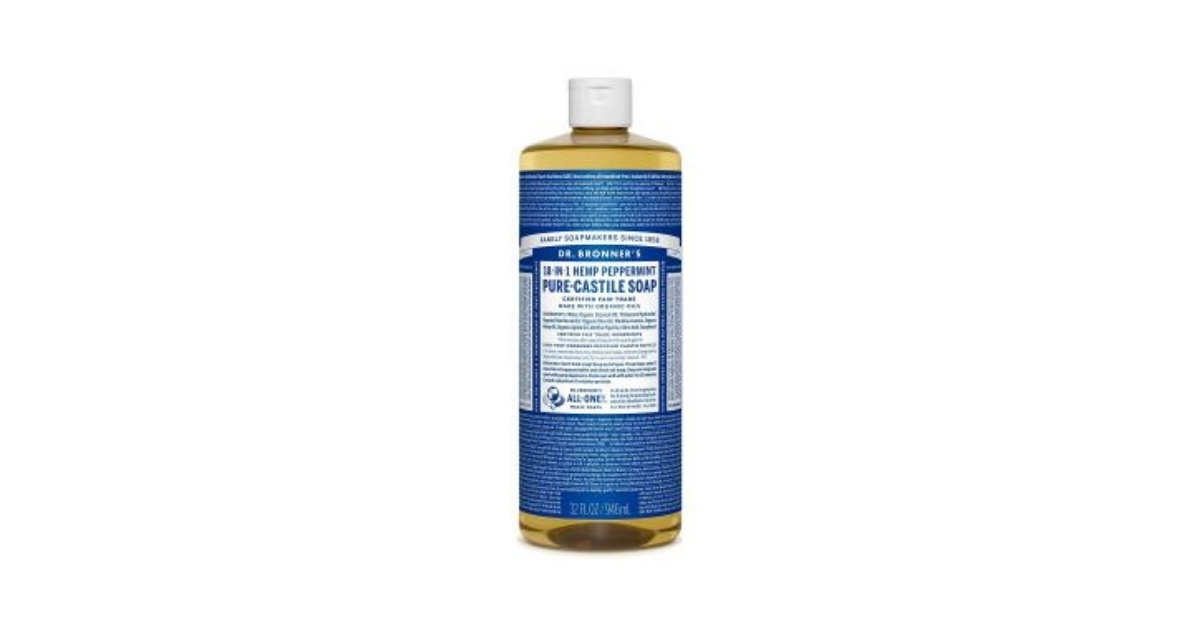 Woolen hat and socks
Here in Canada, it can get quite cold at night even in spring and fall, so I always pack smart wool socks and a wool toque. Wool keeps you warm, wet or dry, and smart wool has some added properties that help it dry quicker when it does get wet.
If it's cold at night, wearing a toque and socks to bed can make all the difference. As a last resort, pull the sleeping bag over your head and let your breath heat the bag. No, you will not suffocate; there's plenty of ventilation through the bag to give you sufficient fresh air.
Park your bike facing out from the campsite
The first time I moto-camped, I pulled into the site, parked, then the next morning went to do that U-turn to get me out and dropped the bike. The site was on a slight slope which I didn't notice, and my head just wasn't into it yet.
You don't want that first turn of the day to be a U-turn with the bike fully loaded, so instead, pull the U-turn at the end of the previous day and then the next morning all you have to do is load and ride. Save the U-turns for after the second coffee.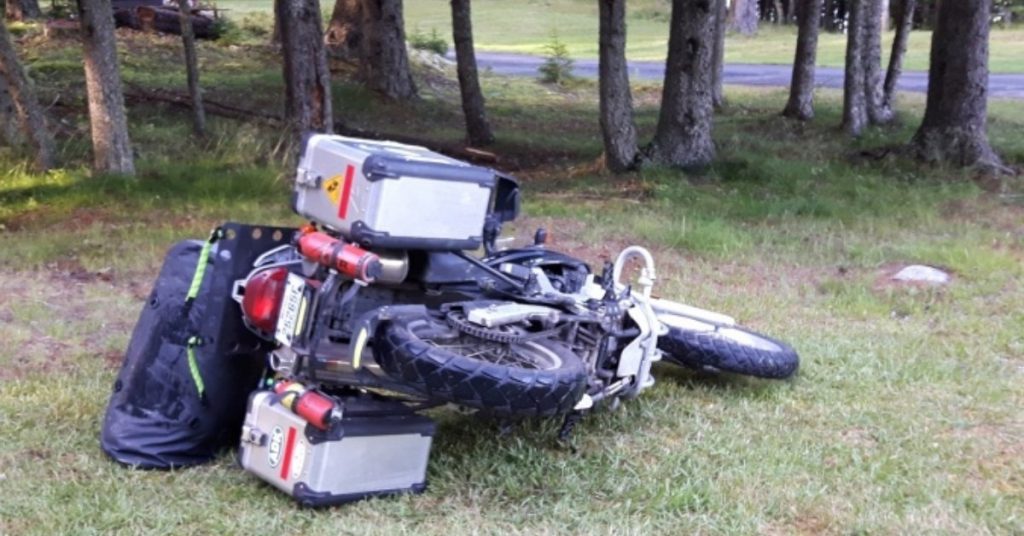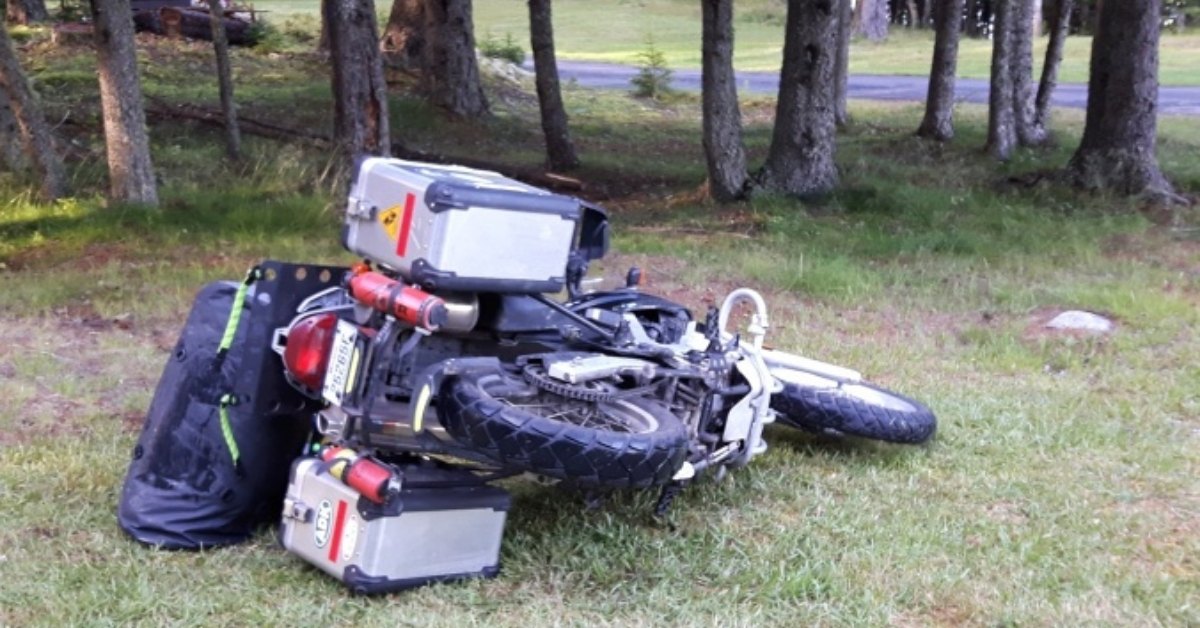 Buy fresh food when you can
Maybe because I did so much canoe-camping before moto-camping, I discovered this one only well into my first long tour. When canoe camping, you plan each meal for every day and take exactly what you need. It never occurred to me that I could simply pick up something fresh at the local grocer while passing through.
Yeah, I pack a lot of porridge, pasta, peanut butter, packaged curries, and rice for most of my meals, but one of my best camping meals ever was some fresh fish I bought while passing through Moncton, New Brunswick, with a bagged salad and rice.
I even bought some garlic butter for the fish, something I knew wouldn't last more than a day but made the meal, since I cooked the fish in it. So don't forget: even though you're roughing it, you are riding through civilization often during the day and can pick up fresh food at the supermarket for that night's dinner. Buy your meat frozen and it will thaw during the day and be ready to cook for dinner.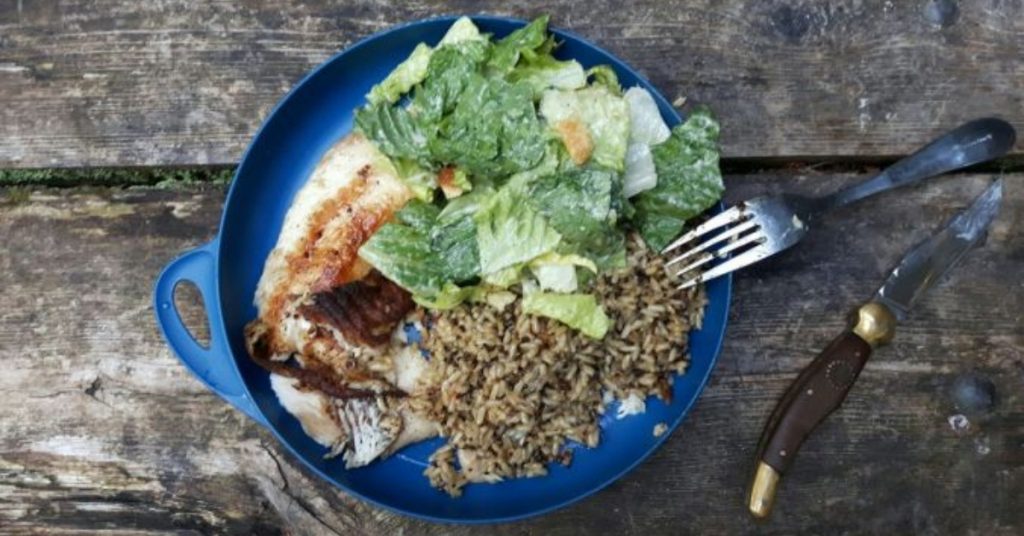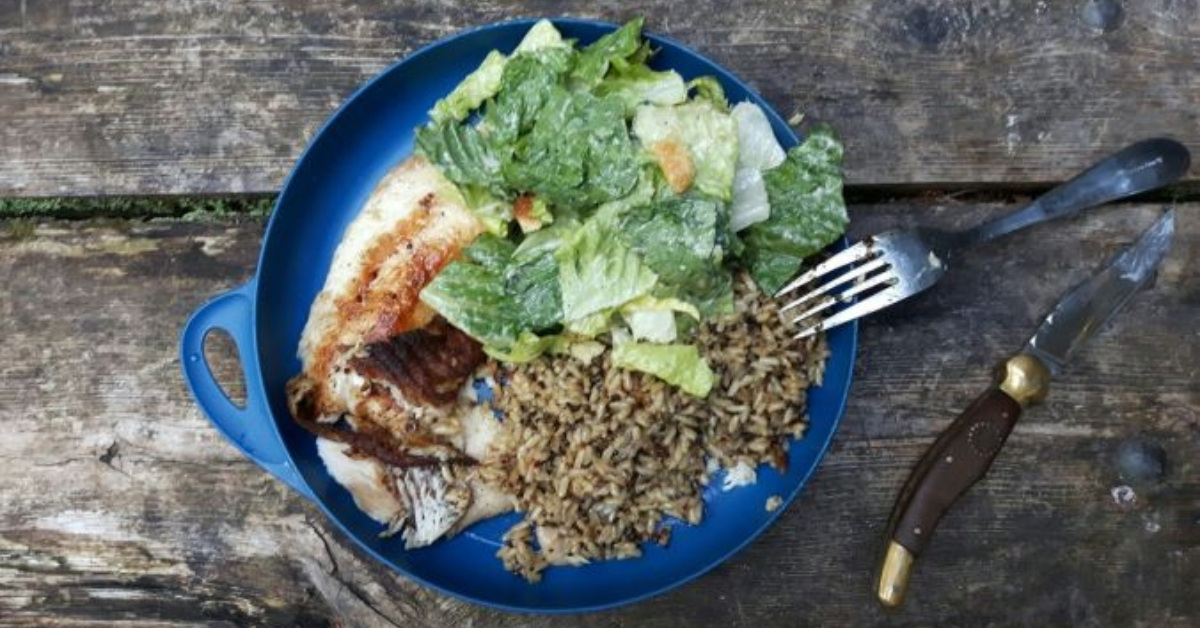 Arrive early, leave early
My biggest tip for moto-camping is to arrive at your site early. I start to look for a campground around late afternoon so I have plenty of time to set up, cook, eat, and do all the washing up before the light starts to fade. And while we are on this subject, buy the best headlamp money can buy; you will thank yourself later.
A headlamp leaves your hands free for the washing up or anything else you still have to do after sunset. It's therefore important to get on the road as early as possible so you can do a full day of riding before it's time to stop. Are you a night owl? Don't worry: soon your circadian rhythm will be in sync with the sun. You'll find yourself crawling into your tent soon after sunset and waking up at dawn.
Moto camping requires some planning, courage, and a little extra work, but the rewards well outweigh the costs. There's nothing like kicking back beside a campfire at the end of a long day of riding, being in a tent during a thunderstorm at night, or crawling out of a tent in the early morning, with mist still hanging on the lake and hearing loons calling through the fog. If you love nature and riding, then moto-camping is for you.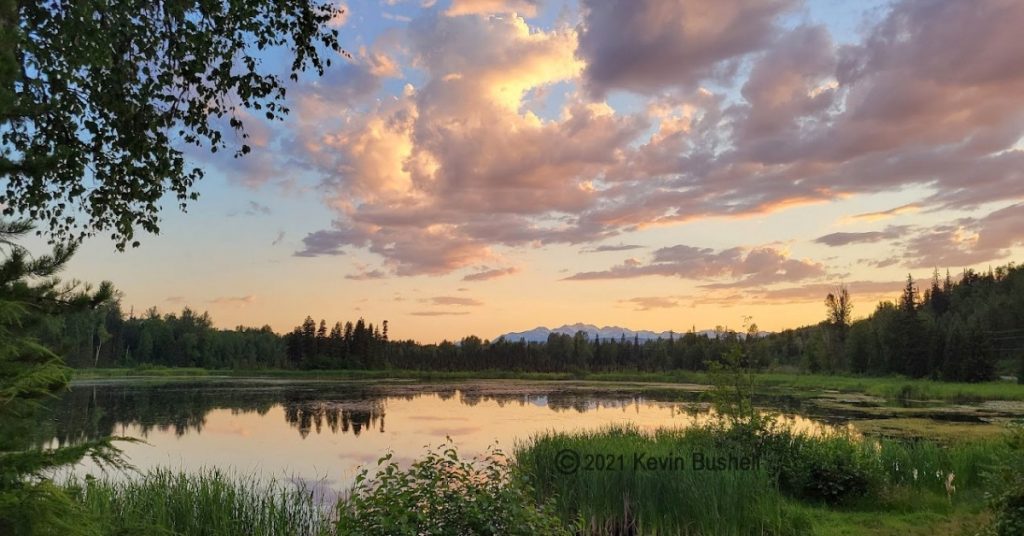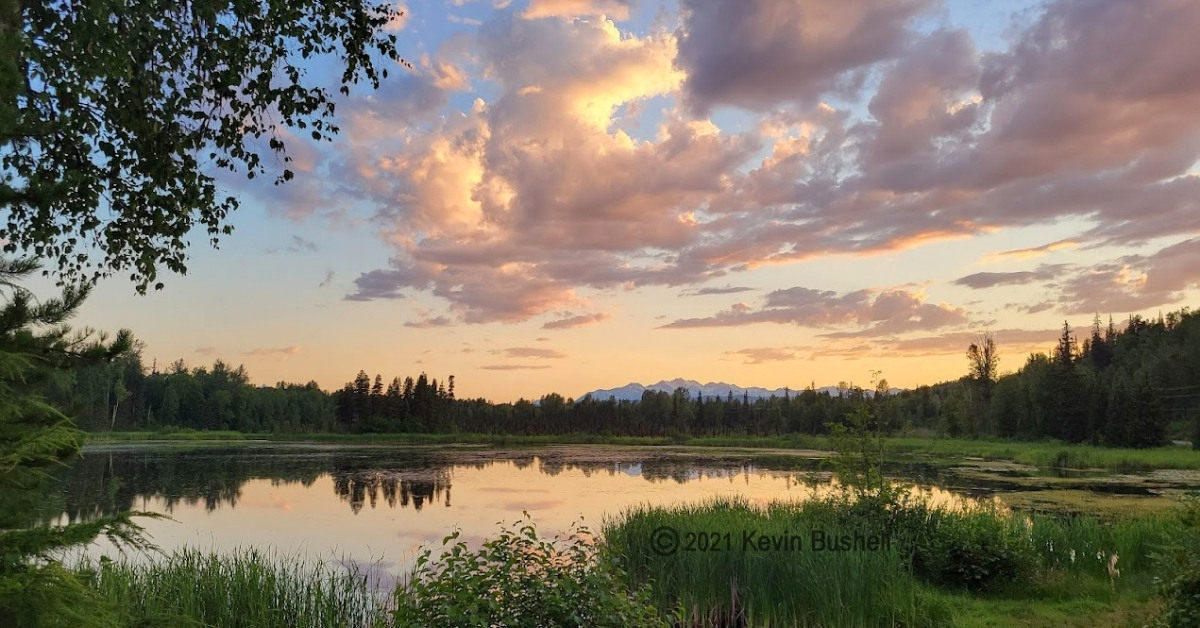 Do you have some camping tips or questions? Leave a comment.