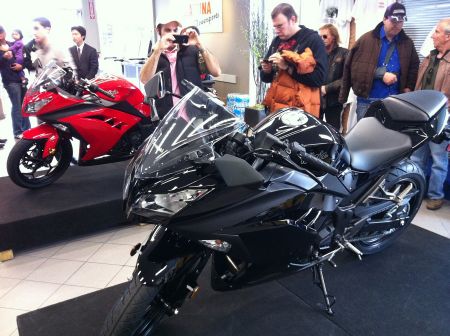 The Kawasaki Ninja 250 has been a solid contender in its class for many years. Kawasaki even upgraded the model within the past few years, and that upgrade generated a lot of positive response. In fact, Kawasaki has been very active in offering many options to riders of smaller, more fuel efficient bikes with the impressive style and performance of the 400 Ninja as well as the 650 Ninja. So when it was announced that Kawasaki would be coming out with the Ninja 300 in 2013 there was, predictably, a lot of anticipation.
The large crowd that showed up at the Canadian launch of the all-new Kawasaki Ninja 300 on Saturday October 20, 2012 was not disappointed.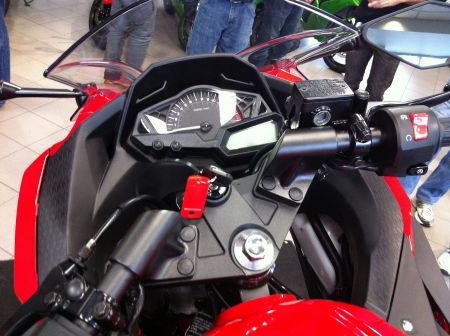 Introduced in red or black colour options, the Ninja 300 boasts a long list of favourable traits. At 296 cc, it is definitely an attractive motorcycle when it comes to insurance rating with some of the major insurance companies. The MSRP list price of $5799 is also well within the budget of many riders. And with fuel injection and ABS brakes, it's quite reasonable to assume that fuel efficiency, increased safe operational performance, and less likelihood of significant maintenance issues should all line up firmly on the positive side.
One thing is certain: you will see a lot of these Ninja 300's on the streets and highways of Ontario in the Spring of 2013. That's when the real discussion of actual experiences with this beautiful new bike will begin. If you want to be an active participant in that discussion from a front line perspective, you should get on down to Kahuna Powersports or your closest Kawasaki motorcycle dealer and make a deal soon.