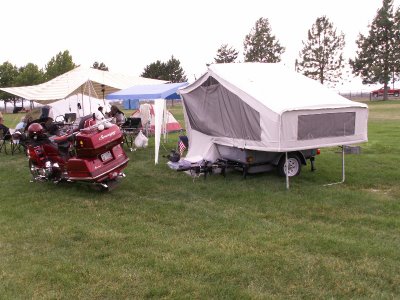 A big part of camping's appeal for many people is the planning that goes into a camping trip. Other people enjoy the endless variety of ingenious tools, gadgets, and other toys designed for campers. Still other folks simply throw together whatever they think they'll need and settle in wherever they can legally pitch a tent. The beautiful part of it is that everyone is right in whichever approach they take. The one thing that all motorcycle campers will agree to is the fact that travelling light and packing carefully become far more important when you don't have a 40 foot motorhome to fill with gear.
"Compact" has been an elusive concept for the motorcycle camper in the past. Pots, pans, sleeping bags, all took up significant space and added a lot of weight to the limited room on any motorcycle. That has changed in a big way. Suppliers such as Moto-Camp have discovered this lucrative market.
A trip to your local Mountain Equipment Co-op will absolutely astound anyone who hasn't been following the progress of camping gear. The state of the art these days includes top of the line sleeping bags that pack into a space not much bigger than your fist, and cookware that is high quality but precisely the size to fit easily into your saddlebags with tons of room to spare.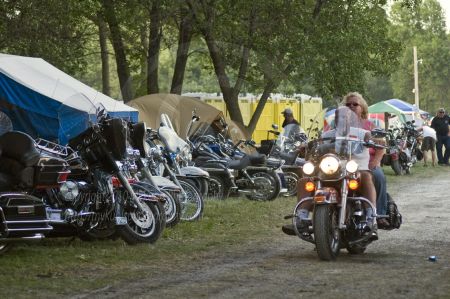 Fleece clothes for chilly evenings are compact, incredibly warm, and can be as inexpensive as you wish since you can buy them pretty well anywhere. Microfibre shirts for under your leathers work well if you're out riding in hot temperatures, to help keep you cool by wicking away sweat instead of getting soaked and uncomfortable like cotton. So dressing for camping isn't as challenging as it once was.
While you're in planning mode for your motorcycle camping trip, make full use of the endless blogs on the subject of motorcycle camping such as Road Runner Motorcycle Touring and Travel. Excellent options and advice can be found from Trillium Motorcycle Tours, as many motorcycle riders already know.
Depending on the size of your motorcycle, you might decide to take the camping experience up a notch by pulling a tent trailer behind your bike. The number of manufacturers of these nifty little trailers is increasing. Not prohibitively expensive, they also provide extra capacity for gear. There are, of course, lots of manufactured trailers that don't fold out into tents but can give you a whole lot of extra storage, which can allow you to lengthen your trip significantly.
Gone, for the most part, are the days of campgrounds being prejudiced against motorcyclists. Even if you do encounter a campground that doesn't want your money for some reason, you really don't want to stay at such a place anyway, because the management clearly has some perception issues that would probably impact the entire experience at that place. Take advantage of planning tools such as the Motorcycle Campground Directory to steer you in the right direction from the start. Provincial and National Parks are always excellent locations to set up for a few nights, but it's truly amazing how many little private campgrounds exist as well.
Don't forget that when you go to Friday the 13th in Port Dover on Friday, July 13, 2012, you have some great camping options as well.
And don't forget the golden opportunity to add events to your motorcycle camping experience. For example, the Mosport Superbike Doubleheader Weekend August 24-26, 2012 includes the opportunity to camp in the middle of the race course. Believe us, this is an incredible weekend of great racing, great camping, and the chance to hang out with other motorcyclists.
Here are just some of the endless number of perfect opportunities to mix a great motorcycle ride with a chance to camp and commune with other riders. If you've never been to the Bikers Reunion in New Liskeard, for example, you should try to fit it in this year (June 29-Jul 1, 2012). Beautiful country with changing scenery and great camping options.
The 2nd Annual Bobcaygeon Community Bikefest June 24, 2012 is a great event in the heart of some excellent camping country.  The Niagara Falls Motorcycle Show promises to be a great time with some excellent campgrounds not too far away such as Jellystone Park. With the aid of a search engine and Google Maps, you should find a campground exactly to your liking in no time.