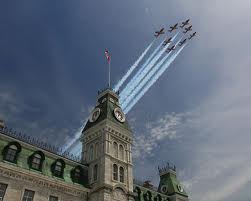 Kingston, Ontario is the only city in the world that has a historic walking tour with a narrative by Don Cherry that you can download to your MP3 player right from the Kingston city website. We can just imagine it: "You kids out there, remember to guard your shorelines against the invading American hordes."
Speaking of venerable Kingston establishments, the reputable local motorcycle dealership Motosport Plus has been serving the whims, wishes, and desires of local and visiting Harley Davidson and Honda motorcycle riders for a very long time. Suzuki and Kawasaki are very well represented in the area by Tony's Cycle, worth a visit for all motorcycle enthusiasts.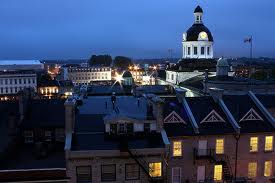 Kingston is steeped in history, having been the most important of British North American cities for a long time while tensions with the newly independent Americans ran high. Tours of Fort Henry are absolutely fascinating, and the historic buildings throughout town offer the opportunity to discover even more about the history of Canada.
Today Kingston remains an important city for many reasons. Located on the shores of the St Lawrence River, and a short ride from the Thousand Islands area, Kingston has a thriving tourism sector that is very attentive to motorcyclists. The rocky, rolling hills that characterize the landscape from all directions in the approach to Kingston provide excellent riding conditions, so Kingston is a perfect destination that offers all of the amenities you want at the end of a reasonably long ride.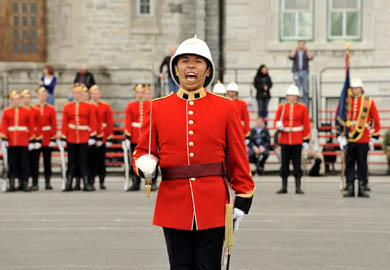 Kingston has the full range of hotels and motels to fit any style, budget, or inclination, but for those who like to check out some of the architectural and historical landmarks from an inside perspective, the historic inns of Kingston are worth checking out. These are reasonably priced accommodations that add an extra dimension of interest to your stay. Bed and breakfast afficionados will confirm that once you start travelling from this perspective you find it hard to go back to the relative homogeneity of chain hotels (although, to be fair, there is certainly a sense of comfort in being able to anticipate what specific hotel chains will have to offer at the end of a long motorcycle ride).
Kingston is at the centre of a motorcycle rider's paradise, well within riding range for visiting motorcyclists from Ottawa, Toronto, and beyond. Don't just take our word for it, though; odds are overwhelming that some of your riding friends will have even more detailed opinions and advice on a stay in the Kingston area, so make your inquiries and book your trip.