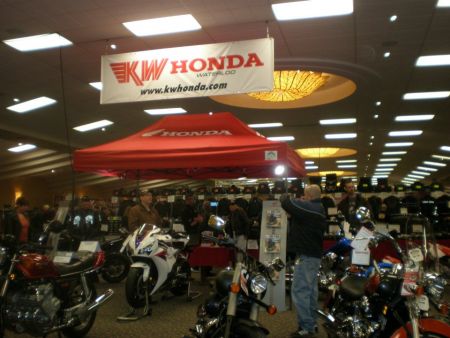 Friday night, March 9, 2012, saw trucks and trailers lined up at Bingemans Conference Centre in Kitchener, Ontario. Motorcycles, leathers, the building blocks of trade show booths, brochures and cards, all sorts of things were being unloaded and carted into the halls to be set up. The excitement is always at a high level at this point because the vendors setting up for the weekend are still rested and high on energy.
Like many regional Spring motorcycle shows, the Kitchener show is, appropriately, open to the public on just the Saturday and Sunday. Local dealerships KW Honda and Kitchener Harley Davidson had impressive displays and lots of staff on hand to answer any questions and meet and greet customers old and new.
Saturday started out a bit chilly but clear and calm. As the temperatures rose steadily throughout the day, the number of show attendees who made their way to the venue via two wheeled transportation increased. The number of motorcycle enthusiasts who came through the doors was pretty impressive, and they should not have been disappointed. There was something for everyone, from excellent rates on magazine subscriptions to a superior motorcycle magazine from Motorcycle Mojo to impressive, environmentally friendly cleaning products from Purple Slice Detailing, it was hard to find anything missing. Great deals on quality leather products specific to the needs of motorcycle riders from Ali International were a big hit of course.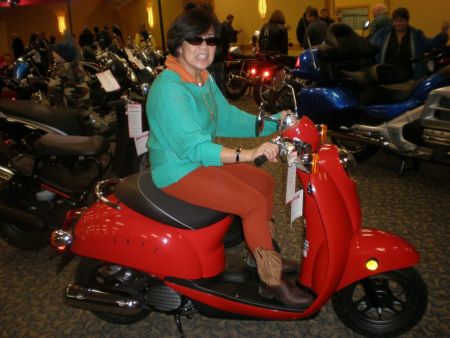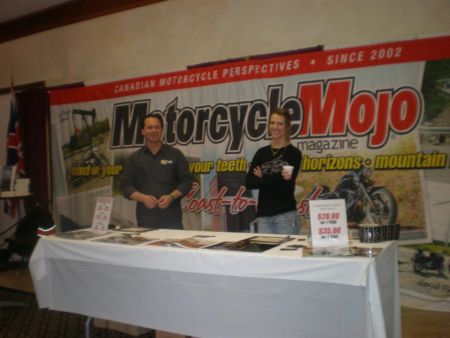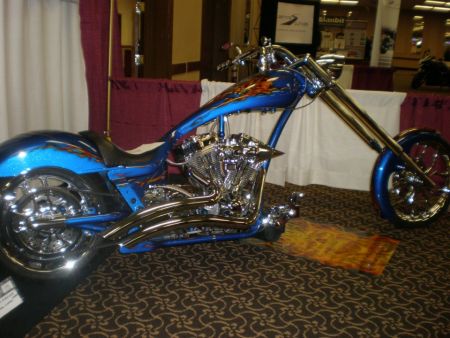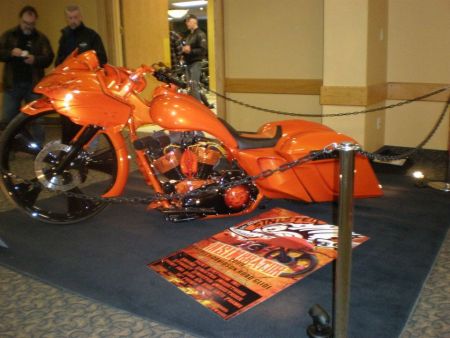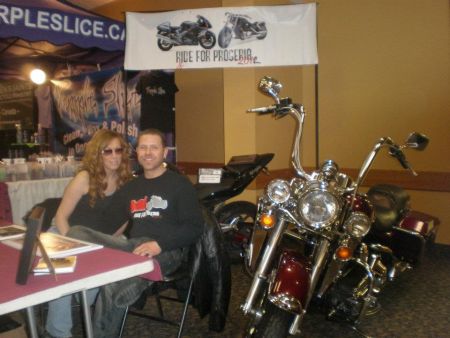 There was a real wealth of local rider training course providers on hand. The Ontario Motorcycle Safety Association had lots of professionals on site all weekend to direct new riders to get signed up for their excellent M1 and M2 Exit courses, and those courses start already on the weekend of March 17th. The pros from Conestoga College Rider Training had a booth as well; they have been providing rider training to local residents since the 1970's, and continue to be a leading edge provider of excellent instruction. And the newest organization, which has instructors who have been in the game for a very, very long time, Learning Curves, was out there engaging new riders and building on that enthusiasm to get into riding and enjoy it safely and properly.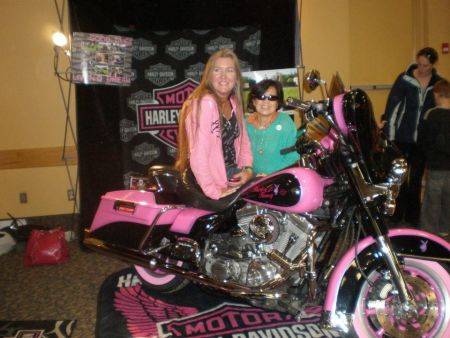 Charity Rides were well represented as well. The 4th Annual Ride for Progeria, organized by the eminently capable Amanda Lynn Mayhew, will unquestionably be a highly successful and not-to-be-missed event in June 2012. The MS Freedom Ride had excellent representation by enthusiastic folks who offered their time to promote a very important fundraiser for a very important cause.
For more information on next year's motorcycle shows in London, Hamilton, and Kitchener, follow the World of Motorcycle Expos website for details. But we have a whole year of riding before that happens, so we'll see you out at this summer's events across Ontario!