I've ridden a motorcycle almost continuously since I was sixteen. Yet when I decided to get back into serious riding twenty years ago, I didn't know where to start shopping. I'd ridden mostly used bikes, then shared one for years. Styles and models had evolved and now that it was time for a bike of my own again, I had to sort through many choices. Not surprisingly, I didn't make the best selection and ended up trading it in less than two years later.
There are even more on the market now, so it's wise to do your research before making the decision.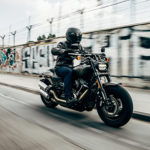 Cruisers
There's a reason these are the most prevalent bikes on the road, but it wasn't the right choice for me. Built for long, casual rides, they're designed for comfort, not speed. Even those with large displacement engines deliver controllable power, an attractive feature for many riders. The front wheel is more raked than naked or sport bikes, making steering and handling easier to manage and more forgivable. Cruisers also have low seat heights, appealing to riders with short inseams.
Influenced by friends, this popular style is what I chose to get back into riding. It was great for cruising back and forth to work but limited for longer distances. I found the seating position uncomfortable and it wasn't designed to carry much luggage. I also wanted something livelier. I went shopping again, this time armed with more knowledge and experience.
Standard
This was my next step and I loved that bike for 208,000 km! I put aftermarket side bags and a tail bag on it and had fun riding it across the country. It held everything I needed, was fun to ride, and easy to manage, with more power than I needed.
Also known as naked bikes, these versatile models are great for a variety of uses but not the perfect tool for any specific style of riding. They're as comfortable on an all-day trip as they are on the track. Generally, they're sporty looking but without the side fairings characteristic of sport bikes. The seating position is fairly upright and comfortable, which makes it easy to steer. An average seat height allows most riders to reach the ground.
Eventually, as my touring distances increased, I traded my standard model for an Adventure bike.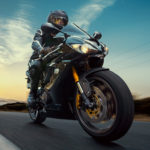 Adventure (ADV)
I moved to this style because of its versatility for touring long distances over a variety of terrain and comfortable ergonomics for long days in the saddle. I'm now on my second ADV bike, an 800cc Triumph Tiger, and loving it. It's comfortable, easy to manage, fun to ride, reliable, and carries a load all day without complaining. Perfect for the kind of riding I do.
These large-displacement motorcycles are designed for on-and off-road travel and can cover great distances in comfort. Street legal and powerful, with larger engines than dirt bikes, this class may be intimidating as a first bike.
In addition to those I've owned, you have these classes to choose from:
Sport
Sleek and aerodynamic, sport bikes are patterned after race bikes and best used for short spirited rides or track days. Their aggressive, forward body position makes them uncomfortable for long distance riding. Because their suspension and framework are designed for racing, potholes and road variances are accentuated, which can be unsettling for new riders. Potentially very fast with razor sharp settings, braking, and handling, sport bikes are not appropriate for novices who haven't developed their muscle memory or the mastered the skills required to operate these finely tuned machines.
Tourers
Also known as dressers or baggers, these bikes are meant to carry lots of gear and a passenger at high speeds for long distances. Their favorable seating position and plethora of appointments make them very comfortable to ride all day. Although they're well-balanced and experienced riders find them easy to maneuver, they're heavy and not appropriate for novices until they've built their skills and confidence.
Sport-Touring
As hybrids between sport and touring bikes, they have less carrying capacity but more zip than touring machines. The more neutral riding position is also a hybrid and comfortable for long distances.
Dirt
With lots of suspension travel and knobby, super aggressive tires, these small, lightweight machines are meant to tackle rough terrain. High suspension means a high seat height. The long flat seat is not designed for sitting for long periods but dirt bike riders spend much of their time standing. They come in a variety of sizes and are great for new riders learning how to respond to a variety of surfaces, obstacles, and unexpected situations. They are not street legal.
Dual sport
Often considered street-legal counterparts to dirt models, dual-sports don't have the accoutrements or capability of an ADV bike but allow riders to take a dirt bike onto the street. They're great for riding to the trail or connecting trails with short pieces of pavement.
Scooter
Ranging in size from small to touring models, scooters are ideal for commuting around town. The step-through design gives them a different feel and seating position than other two-wheeled bikes. A surprising amount of storage capacity and more powerful engines make large models suitable for long trips. Automatic transmissions appeal to riders daunted by the prospect of learning to drive a standard.
How to choose the motorcycle that's right for you.
Consider how you'll be using it. Do you want it for the track, commuting through downtown traffic, or touring? When I was getting back into riding, I didn't know how much I'd be riding or where. I couldn't have known at that point so if you're starting out, or starting back into it, minimize your investment until you're sure.
Be realistic about your experience level. The style of riding you think you might do may be different from reality. If you're a new rider, consider buying used and limiting your initial investment until you're sure of your preferences.
Check out insurance premiums. Riders Plus Insurance can give you sound advice on what you need to pay for on your insurance and why you need to have those coverages. They'll also compare rates from a multitude of insurance companies. The Beginners Guide to Motorcycle Insurance is another great resource to help you make an informed decision.
Visit your local retailer. Speak with a salesperson and ask to sit on a bike, ideally in the riding position, for ten to fifteen minutes.
Attend a motorcycle show. You'll never get an opportunity to sit on so many bikes under one roof!
Take a rider training program before making the commitment. That will give you a chance to try out different styles and a better idea of what you'd like to purchase.
Never get talked into purchasing a motorcycle you can grow into. Build your skills and confidence on the bike that's right for you now, and then move on.
Try a few demo rides. Most manufacturers will let you take one out on organized demo days if you have a valid M2 license.
Ultimately, your choice affects your comfort, riding enjoyment, and safety. Take your time and do the research to find the bike that's right for you.