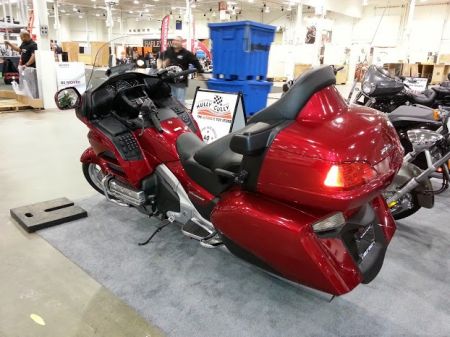 The Riders Plus Insurance booth was located in Hall 3, very close to the entrance to Hall 2, the same location as it has been for a number of years now. The Supershow is huge, encompassing almost the entire complex of vast hall space at the International Centre on Airport Road in Mississauga, Ontario. Each of the five Halls had a fairly common theme, so attendees plotting their route could choose which of the many aspects of motorcycle culture or product and service sales they could check out first.
Motorcycle dealers such as Markham Outdoor Power, Serpa Motorrad, Hully Gully, and GP Bikes were set up in Hall 3. A lot of the motorcycles on display there were for sale at excellent prices, which was evident by the Sold signs that hung from more and more bikes as the weekend progressed. There were helmets, clothing, boots, and all kinds of gear for sale as well in this hall, and at great prices. Insurance providers such as Riders Plus Insurance were located throughout this hall.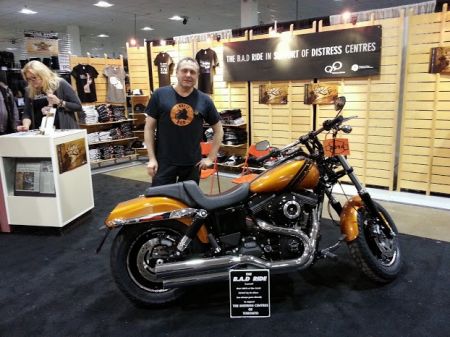 Hall 1 and 2 comprised some of the countless clubs and associations of motorcyclists. Besides providing a great group of like-minded riders with whom to socialize (and ride, obviously!), these groups are often involved in fundraising for virtually any charitable cause you can think of. A visit to this area and the volunteers in the booths is a real eye opener to the vast extent of motorcycle enthusiasts' generosity and goodness.
Hall 5 was a vast expanse of custom bikes that demonstrated the unlimited creativity and artistic genius of Canadian bike builders. Really good bands played while all the blinding chrome and laser-perfect graphics drew huge crowds of admirers.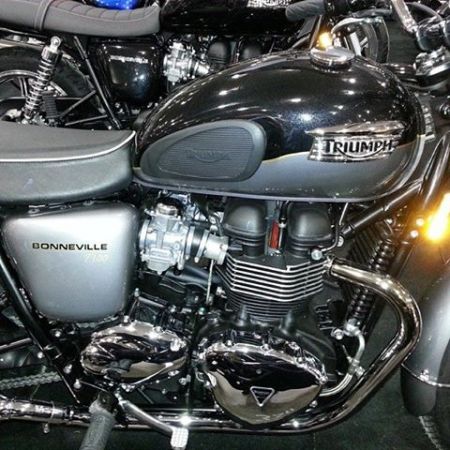 Hall 4 had a nice mix of displays, a significant number of which were devoted to motorcycle racing. The racing community was out in force to engage with the public. Everything from sidecar racing to trail racing was presented with something for all levels of fandom.
The crowds were large and enthusiastic throughout the weekend. Cold, unrelenting winter weather couldn't keep these hardy folk from showing up and taking advantage of the largest motorcycle trade show in Canada. This was a grand start to the 2014 motorcycle season, and we're sure that the rest of the bike shows coming up shortly will not disappoint, either.
By the way, mark your calendar for the next big bike show which is coming up February 1 and 2 in Ottawa, Ontario: the Riders Plus Insurance Ottawa International Motorcycle Show. This one will be huge, so don't miss it!