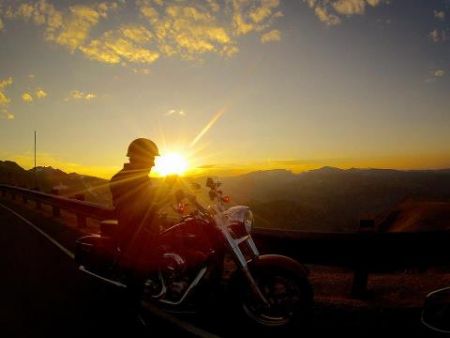 Friendliness isn't merely a sign on the edge of town that says something like "We're Darn Friendly", it's an attitude that starts with the residents, permeates the municipal government, and shines through as a habit of welcoming is developed.
The County of Lennox and Addington website is packed with promising information for the motorcycle riders. In fact, there is so much attention devoted to motorcyclists on this site that you get the sense they actually understand what excellent tourists motorcyclists are. This region is barely a half hour from Kingston, a city that  is a fantastic destination as well for all kinds of reasons.
Lennox and Addington County is also quite close to Toronto or Ottawa, just an hour or two of straightforward cruising down the 401. It's hard to believe that such an unspoiled rural landscape is so close to and so accessible from many of the largest urban centres of Ontario.
First of all, they have a detailed, clear map of suggested motorcycle routes. This feature alone is a fantastic aid to riders who haven't got enormous amounts of time to explore in a hit-and-miss fashion. Another remarkable feature of that specific page is the design that includes tabs for other services that motorcycle riders visiting the area would require, things like restaurants, hotels, and shopping.
The scenery in this area is breath taking. Beautiful rugged shoreline along Lake Ontario, rocky hills and beautiful rural landscapes, truly a feast for the eyes. The roads have enough twists and turns to keep life interesting, and maintenance of local roads is remarkably good in general.
The attractive qualities of Lennox and Addington as a destination ride are almost endless. Fresh air, friendly people, great food and accommodations, amazing scenery, and more. Check out their website and fit this area in for a weekend or a week this riding season, and let us know how it went!