You meet the nicest people on a small bike

Very few motorcycle manufacturers start out building large displacement bikes. One of the best selling motorcycles of all time happens to be a small bike, the single cylinder Honda Super Cub. It was revolutionary in 1958, but motorcyclists living in North America always seemed to prefer much larger singles and twins made by companies like Harley Davidson, Triumph, and BSA.

During the 90s and 00s, riders were hard pressed to find a small bore bike that possessed even a fraction of the performance and aesthetics of their larger stable mates. The demand for smaller bikes, both from new and experienced motorcycles alike, resulted in manufacturers producing just that: a whole new crop of interesting, small bikes for enthusiasts to enjoy.

KTM Duke 390 

The old joke is why would you buy another brand only to spend a substantial amount above and beyond the purchase price to make it handle like a KTM? KTMs have always been for motorcyclists who like bikes that come tricked out straight from the factory, and the diminutive road going Duke doesn't disappoint. In the chassis department, you'll find a steel trellis frame along with forks and a rear shock made by WP. With nearly 30 horsepower to motivate the 149kg chassis, there's no way not to have a good time on one of these little orange and white "Ktooms."

Honda: Choose your flavor 

Honda has come a long way since the first Super Cub. Today it's fair to say Honda has come a long way since the Rebel 250, one of the only small bikes in their line up for what seemed like decades. When Honda replaced the original tiny Rebel with the 2017 Rebel 300, they didn't skimp in the styling department. The bike looks as good going down the road as it does leaning on its side stand, and the bigger engine goes a long way toward helping riders pull away from traffic at will.

When Kawasaki upgraded their Ninja 250 in 2009, Honda answered back with the CBR300R, which resulted in spin offs like the CBR500R and the CB300F. In keeping with traditional Honda style, their newest line up of small bikes appears refined yet understated in person. All of Honda's 300cc bikes share the same engine, and the same is true for the 500cc bikes, too. The engine may be the soul of a motorcycle, but the chassis supplies the mojo. If you like Hondas, the only thing you need to ask yourself is "What kind of bike do I want to ride?".

Kawasaki VERSYS-X 300 ABS

Before the Kawasaki VERSYS line was even a twinkle in its designer's eye, there was the KLR650. It was a small tractor of a bike, spotted the world over underneath riders going everywhere, doing everything. Kawasaki's latest enduro bike sports a smaller engine but shares its grand daddy's long travel suspension and upright seating position. There's a big VERSYS available today as well, so you don't even have to get a different bike when you're ready for something a little bigger and faster.

BMW G310GS

BMW G310GS

BMW has a slightly different reputation in the motorcycle world than they do the automobile world. Although BMW cars have long been known as the "ultimate driving machine," BMW motorcycles, with the exception of the S1000RR, have always seemed appropriate for more utilitarian purposes. What they lacked for performance, they more than made up for with usability and rock-solid reliability. Now BMW has a small bike option for fans of the brand that may not be ready for one of their larger motorcycles. The BMW's biggest selling point might just be its price, given the state of the currency markets. The tiny BMW costs just a few hundred loonies more than other bikes in its class, making it a steal of a deal for fans of the brand.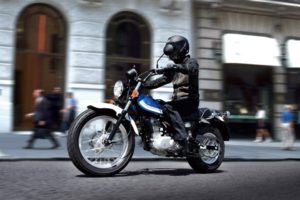 Suzuki Vanvan 200
There's no denying that retro chic is big, and it's not just in the world of motorcycles. Everywhere you go, you see retro this, retro that, and people seem to gravitate toward anything that looks old and authentic. European and Japanese motorcycle companies noticed and have started offering box stock motorcycles with design features and styling that used to be found only on older bikes. The Suzuki Vanvan 200 may have a top speed of just 60 mph, but it looks just as good going down the road as it does parked in front of your favorite coffee shop or organic grocer. If your aim is to burn up the slab, you would be best served by one of the other bikes on this list.
Go forth and ride
Motorcyclists have never had more choices than they do today, and the factories take cues from the past just as often as they push forward with new trends and technologies. The small bike trend is hot, and the small bikes available today are a far cry from the "beginner bikes" of the past. They look just as good as they perform, they're less expensive than the bigger bikes, and for many motorcyclists they're the perfect antidote to the bikes they've become accustomed to over the years. Do yourself a favor and swing a leg over a small bike someday soon. You'll be glad you did.