The Annual Spring Motorcycle Show will be returning for the 31st time, once again with Riders Plus Insurance as their proud sponsor. The show will take place on April 4 – 5, 2020 at the Toronto International Centre located at 6900 Airport Road. There will be numerous motorcycle clubs and associations exhibiting at the show. Come and join the fun and participate in the many features and events that will be taking place.
Features and Events
The Spring Motorcycle Show is looking for your old bikes that have been sitting in your garage or barn and has the looks to prove it. Attendees are asked to bring in any long lost motorcycles to show, where they will be judged. The 1st, 2nd, and 3rd place winners will go home with a cash prize. The idea is to bring in a bike that looks like it was just dragged out of storage, so don't clean up your bike, bring it as is and see if you are one of the lucky winners.
This is the 2nd annual Biker Poetry Content. Take your love for motorcycles and put it into a poem, a select few will be invited to read their poetry on stage at the show. The poetry can be submitted into one of 2 author categories; Biker Men, and Biker Ladies. The selection committee will choose the top 5 of each category, and the winner of each category will go home with a cash prize.  
Visit the site for more details.
The 'Cash for Classic' competition is back and bigger than ever. The competition involves displaying bikes in themed displays as a way to show off some beautiful motorcycles. There are three categories which are:
– The best display of 15 or more Vintage Bikes, with a cash prize of $2,000 
– The best display of 10 or more Vintage bikes, with a cash prize of $1,000 
– The best display of 5 or more Vintage bikes, with a cash prize of $500 
CLASSICS ON THE RED CARPET
This yearly exhibit is made to showcase a special collection representing 100 years of iconic motorcycles. This exhibit was formerly called the "Bikes of the Century" exhibit but has been renamed to "Classics on the Red Carpet" as of last year.
This Spring Motorcycle Show will be host to one of Canada's Largest custom bike showcases, which will have $20,000 in cash and prizes up for grabs. There are three levels of competition which are Pro Builders Class, which could walk away with over $5,000 and a 6-foot trophy, the regular competition level which has more classes than ever with multiple sub-classes in Vintage, Touring, Street, Custom, Competition and Special Interest.
The Editor's Choice Awards or the 'Eddy Awards' were developed to recognize the outstanding Canadian motorcyclists as chosen by the editors of Canadian motorcycle publications. 
The Terez Leathers 2019 Fashion Show is an event made to highlight riders of both genders between the ages of 40 through 60. The models will be showing off their style in casual riding gear, custom fit and full out tour wear, and there will be a special guest modelling one of Canada's top designers, Terez Leathers.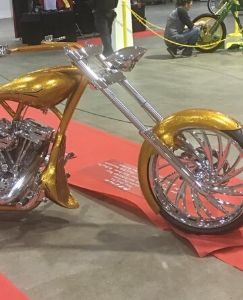 This annual event is made to honour some of the most outstanding contributors to the motorcycling community. This year, there will be eight amazing people who have worked hard to leave their mark on the motorcycling community.
In this year's Motorcycles Pickers Market there will be many vendors with many used and hard-to-find parts for American, British, European and Japanese motorcycles, as well as used motorcycles, memorabilia and collectibles. 
The Spring Motorcycle Show provides sponsored booth space, workshops and seminars to assist MX, road racers, support programs from the motorcycle industry, and flat track racers to generate and retain sponsors.
The Spring Motorcycle Show is bringing back the used bike market. You can visit the market and look at all of the used bikes on display for purchase as well as sell your own used bike. 
If you want to sell your own bike or just learn more, visit their site.
The show will be presenting its 8th annual edition of 'Women in Motorcycling'. This is made to showcase a group of women who are passionate about riding and will change the way you think about female riders.  
As you can see, The Spring Motorcycle Show is not one to be missed. Come and see all of the wonderful events and features that will be taking place this year. There will be many prominent faces from the motorcycle world and you will also get the chance to buy new or used motorcycles, as well as sell your own used motorcycle. 
For more info, click here.