The challenge of finding a spectacular fall colour ride in Ontario isn't finding a route. It's deciding where—from the many prime destinations throughout the province—you'll go.
Here are a few outstanding loops to get you started. Use them as a guide and plan your distance according to your availability, comfort level, and interests. All have plenty of places to stop, eat, and take in the local culture.
Be extra cautious of wildlife on the road at this time of year, especially at dawn and dusk. Note, too, that road conditions are subject to change without notice.
Haliburton Highlands and Algonquin Park
Beginning in: Huntsville.
Highlights: Algonquin Park, Dorset Lookout Tower, Robinson's General Store, lakes, Canadian Shield rock cuts.
Distance: 326 km.
Map: https://goo.gl/maps/jzsu5FvLWY92
Recommended direction: Either.
Sitting atop the granite of the Canadian Shield, this route weaves up, down, and through forests, lakes, and charming small towns, all decked out in resplendent fall finery.
There are straight sections in these roads but they don't stay that way for long, not with all those lakes to get around.
A delightful ride with lots of variety through nature's best artistry.
More info:
Huntsville Tourism
Algonquin Park
Haliburton Tourism
Bancroft Chamber of Commerce
Beaver Valley, Georgian Bay, Georgian and Grey Highlands
Beginning in: Flesherton.
Highlights: Beaver Valley, Ted's Range Road Diner, Walter's Falls. Georgian Bay.
Distance: 264 km
Map: https://goo.gl/maps/tEPMZ6anjoo
Recommended direction: Figure 8; directions below.
Head north from Flesherton and turn right on Grey County Road 32. I've ridden this route many times and still gasp as the Beaver Valley opens up in front of me. Once you reach the valley floor, you're cradled by wooded hillsides as the road follows the contours of the land with gentle sweeping curves until you arrive at Thornbury and Georgian Bay.
Stop at Ted's Range Road Diner, north of Meaford, for an eclectic and delicious meal in this quonset hut turned casual dining destination. There's also a good lookout further up the road (before the military base).
Continue west past Owen Sound to Wiarton. Make sure to follow Grey Road 1 clockwise from Wiarton for the best vistas of Georgian Bay. On the way back, stop at Walter's Falls, walk the beautiful grounds and stand on the viewing platform above the falls.
Grey County Road 2 south is straight but it carries you above the east side Beaver Valley and the views are endless.
More info: Grey County Tourism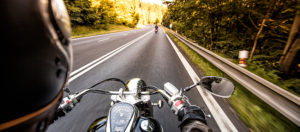 Hockley Valley and Mulmur Highlands
Start: Orangeville.
Highlights: Hockley Road, Mulmur Highlands, Hockley General Store and Restaurant.
Distance: 159 km.
Map: https://goo.gl/maps/kSLsmjchpAQ2
Recommended direction: Clockwise.
Technically tame, the ride across rolling farmland and hardwood hills, with a few twists and turns thrown in for interest, and close proximity to the GTA make this a great day ride.
Hockley General Store and Restaurant, between Loretto and Airport road is a biker destination. Eat inside or out, you'll have plenty of company and riders to swap tall tales with.
Madawaska and Lanark Highlands
Start at: Perth.
Highlights: Opeongo Pioneer Road, Black Donald Mountains, Lots of twisties, small towns, forests.
Distance: 271 km.
Map: https://goo.gl/maps/u5ygjkZc8V52
Recommended direction: Counter-clockwise.
Whatever time you arrive in Burnstown, whether for coffee or lunch, is a good time to stop and stroll around this picturesque village nestled in the heart of the Ottawa Valley. Restored heritage buildings are homes to artists, shops, and eateries.
The Opeongo Road, one of the first colonization roads that took settlers inland, begins east of Renfrew. Highway 132 follows its general path, past pioneer landscapes of log cabins, old barns, split rail fences and simple churches, and deep into the Black Donald Mountains.
A left turn at the town of Griffin, just past the bridge, leads you to Calabogie Road. Carved through rock, forests, and lakes, its abundance of twists and turns make this road alone a destination for riders.
Head south at the town of Calabogie for an energizing ride back to Perth across the Lanark Highlands. The twists and turns tame, but only slightly, and the scenery is gorgeous.
Grand Algoma: Sault Ste. Marie, Wawa, and Chapleau
Start at: Sault Ste Marie.
Highlights: Lake Superior, Lake Huron, Young's General Store, Voyageur's Lodge and Cookhouse, Old Woman's Bay.
Distance: 682 km.
Map: https://goo.gl/maps/rq6QxbtFzcz
Recommended direction: Counter-clockwise.
There's a reason this is known as the Grand Algoma Tour: Everything about it is grandiose. It's remote, rugged, peaceful, and powerful.
With plenty of curves through the northern wilderness, little traffic, and boreal forests, Highway 129 from Thessalon to Chapleau exhilarates.
Originally a trading post, old-fashioned Young's General Store in Wawa offers ice cream, fudge made on the premises, and fresh summer sausage.
The views on Highway 117 between Wawa and Sault Ste. Marie are spectacular, with Lake Superior in sight much of the time. The Voyageur's Cookhouse offers delicious fare and you can walk across the road to one of Lake Superior's lovely sand beaches before resuming your ride back.
You'll need more time to ride the whole loop, but it's well worth the extravagance on this grand route.
Grand Algoma Motorcycle Tour
Lake Superior Provincial Park 
Related Post: 10 Autumn Hazards and How to Handle Them