The importance of motorcycle safety cannot be overstated. According to the NHTSA's National Center for Statistics and Analysis, the risk, per mile, of a fatal crash is 35 times greater for a motorcyclist than a passenger car. While that is a chilling statistic, there are several ways to ensure a safe riding season while fully enjoying the thrills of your bike!
1. Gear up

Proper gear is of utmost importance when it comes to safety on the road. The most important factor, of course, is an appropriate helmet. There is no doubt that helmets
save lives and help reduce the risk of head injury in the event of an accident. In fact, according to a 2009 study by Derrick and Faucher, helmets reduce the risk of head injury by almost 70%. A properly fitted full helmet not only reduces the risk of head injury and possible death, it also provides eye and ear protection simultaneously. Other important items include an appropriate riding jacket, pants, boots, and gloves. When considering materials, keep in mind that thick leather provides the highest degree of abrasion resistance but may become uncomfortable at higher temperatures. Other materials such as Kevlar, ballistic nylon or a combination of these with mesh can help to offer optimal thermal control. Appropriate gear can also help protect vulnerable joints such as ankles and knees in the event of a crash.
2. Weather Matters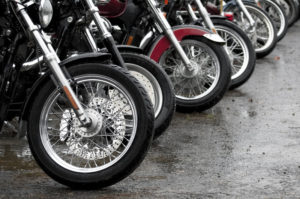 Unfavourable weather conditions can wreak havoc on the road and create dangerous driving conditions. Wet roads interact with tires completely differently, not to mention the effect of precipitation on visibility – both how you see the road and how others see you on the road. If at all possible, avoid driving in bad weather or consider the shortest possible trip. Ensure you are actively scanning the road at all times and leaving extra space between yourself and other vehicles. Always remember that the most dangerous time to drive is right after rain has started – oily residue on the road separates and rises to the surface, creating hazardous conditions.
3. Drive Defensively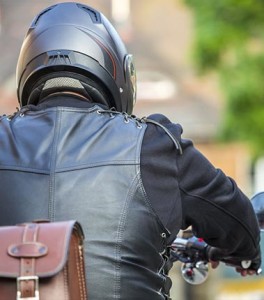 Defensive driving is more than simply not speeding. It is a mindset aimed at creating a safe yet enjoyable riding experience. Ensure that you are constantly scanning the road ahead; many things that a car may easily straddle (such as fallen leaves, dirt, debris) may pose a major hazard for a motorcycle at high speed. Speaking of speed, abiding by speed limits is important; take into account road conditions and weather and avoid going faster than you can handle.
Defensive driving also involves making yourself visible (think brightly coloured gear, reflective detailing) and staying focused and alert for the entire time you are on the road. If you are tired, take a break!
4. Bike Maintenance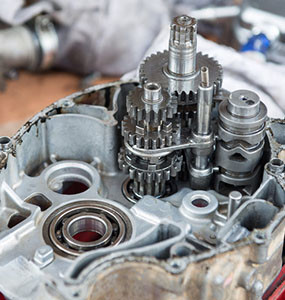 Proper bike maintenance is an important part of minimizing your risk on the road. Ensure proper tire pressure; under- or over-inflated tires grip the road differently and can quickly become a problem, especially in sub-optimal conditions. Entrust your bike to a skilled mechanic in order to keep it in optimal form – when your bike is the only thing between you and the road at 100 kph, there's no room for worn out brakes!
Check out the following local motorcycle dealership page – this is the best resource to get the highest quality service and advice for all your maintenance requirements.
5. Go with the Pros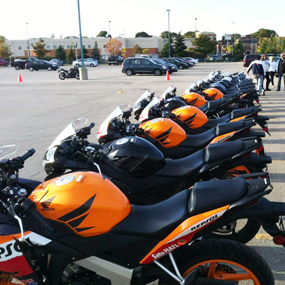 Professional riding courses are of paramount importance– there is no substitute for learning the ins and outs of motorcycle riding under the watchful guidance of an experienced instructor. Get to know what is being offered in your area by taking a look at the Ontario Motorcycle Rider Training page and take advantage!
There is no reason that safety and enjoyment cannot go hand in hand when it comes to riding – make the most of these tips to ensure a safe and fun riding season and, as always, feel free to contact Riders Plus for all your motorcycle insurance needs – we've been in the business for over 20 years and can help you find the right coverage for you and your bike!
Want to know where to find the pros? You can always find experienced riders at events all over the province, such as at charity motorcycle events!
Community Suggestions (Last Updated August 10th 2016)
1. Carry a First Aid Kit
This tip was made on our Facebook page (by John B) and is definitely useful. Carrying a portable first aid kit with you at all times ensures that you're well prepared in any emergency. First aid kits are an invaluable tool for keeping not only yourself safe, but others as well.  It's better safe than sorry.
2. Travelling with Basic Tools
Traveling with a basic toolset is never a bad idea. You never know where you're going to be when you're in need of bike maintenance. (Thanks to Scott C for the tip.)