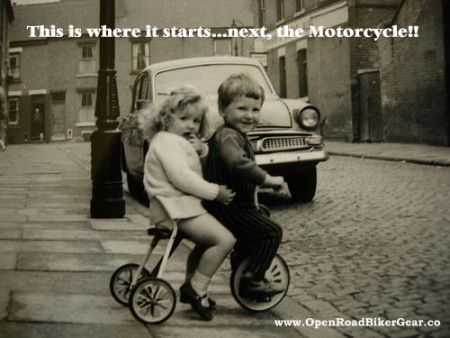 The idea of putting two wheels on the back of a motorcycle for stability purposes is certainly not a new idea. Trikes are, however, gaining a lot more popularity these days, partly because Ontario's baby boomers are getting older and find the added stability attractive on the big bore bikes that they love to ride.
There are a number of popular trike kits available. The Lehman Trike kit has been very popular in Ontario for quite a long time. There also seems to be a lot of Motortrikes on the roads now, and the trike kits from California Sidecar are gaining market share as well. There are others of course, but these seem to be the most recurring models that clients of Riders Plus Insurance own.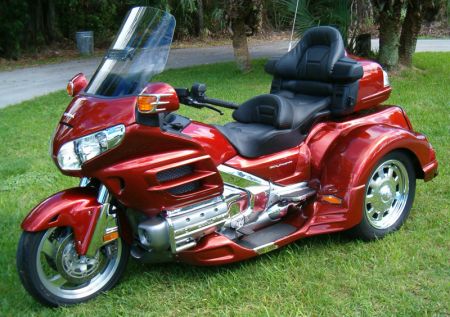 So what are the insurance issues related to trikes? Generally speaking, there is a much more general acceptance of trikes by insurance companies now than in the past. Naturally, insurers who don't like motorcycles have no love of trikes, either.
But at Riders Plus Insurance, it's usually not an issue to insure a trike that has been professionally built with a well-known manufacturer kit. Call 1-877-251-4504 for a quote if you are an Ontario resident who either owns or is looking at owning a trike and we'll see what we can do.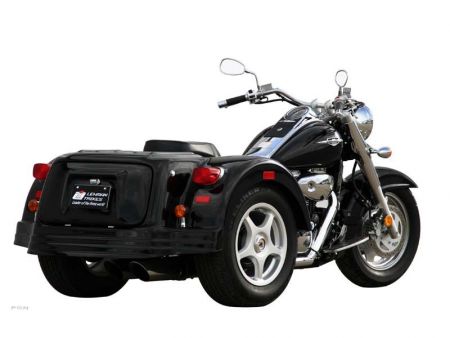 We emphasize that a professionally built trike is important because there are details that you wouldn't want to leave to chance or to amateur enthusiasm. You want to make sure that all rules and regulations regarding road safety are adhered to by the builder. If you are buying a trike that is already assembled from someone who is not a dealer, it is a good idea to get the pedigree of the trike before you put down your cash, and it's even better to have an authorized trike dealer check it out as well.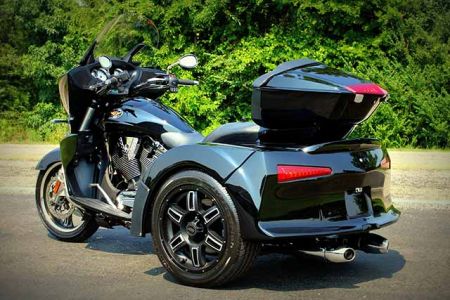 One of Ontario's trike builders is Trike My Bike out of the Windsor, Ontario area. This shop comes highly recommended by one of Riders Plus' customers who recently had his 1988 Golwing fitted with a Motortrike kit there and was very pleased with both the exceptional level of service and the quality job he got for a reasonable price.
Lindsay Cycle in Lindsay, Ontario has long been known as the go-to place for Ontario motorcycle riders who have a preference for Lehman Trike kits. The small town friendliness and professionalism of this shop (which sells a lot of other motorized products, by the way) is worth the experience.
Mid City Honda in London, Ontario is also a certified Lehman Trike dealership, and they've been providing great service in one of Ontario's most motorcycle-crazy regions for a very long time.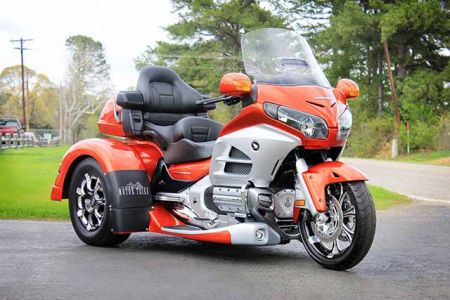 The question that many motorcycle riders have debated for a few years now is how to classify the beautiful line of three wheeled machines known as Can Am Spyders. Spyders have three wheels, but they have two upfront and one at the back, so they are never called "trikes". Significantly, the debate seems to have evolved from "Is it really a motorcycle?" to "Wow, where can I buy one of those?"
After all, true bikers cringe at labels, so why try to define something that gives you the whole experience with added benefits such as more storage space and greater stability? The popularity of Spyders has soared to the extent that there is even a rider traning course solely for Spyder riders that is offered byGeorgian College Rider Training.
So if you're interested in looking at trikes in more detail, go to your local trike dealer and ask the questions. They'll be more than willing to help you out. Remember, trikes are bikes too!