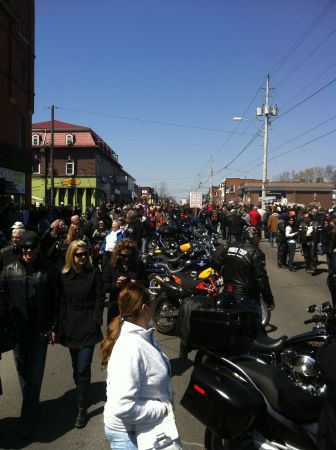 When Jeff, the Riders Plus Marketing Rep, arrived in Port Dover around 9 am on Friday, the Thirteenth of April, 2012, the town was already beginning to fill up with motorcyclists and a few non-riding tourists. It didn't take long before the floodgates opened and the town simply filled right to the rafters. By afternoon it was hard to find room to walk, and nearly impossible to find room to ride.
It couldn't have been a more perfect day weatherwise.
The temperature hovered in the midteens for most of the day, the sun was shining, there was very little wind. Just cool enough to make the leather clothes wearable. Such excellent weather only increases the enthusiasm and good mood of everyone who came down to see and be seen.
One of the most important ingredients in making Friday the 13th in Port Dover such a successful event is the fact that everyone, regardless of motorcycle brand or any other individual identifying feature, is welcome and feels welcome.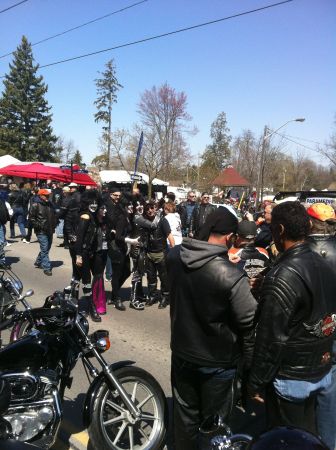 Motorcycles made by every major motorcycle manufacturer were represented. Riders wearing the colours of many of the social motorcycle riders groups such as the Southern Cruisers were in town for the experience.
Business was beyond brisk at the local restaurants and coffee shops. The sheer numbers of riders who were served had to be music to the cashboxes of the local business owners, and the great food and cheerful service was worth every penny of the reasonably priced fare.
Started by a small group of Port Dover residents back in the 1980's, the informal ritual of gathering in this tiny town every time a Friday the 13th occurs has grown into the biggest tourism event of the region.
It's not really a big surprise that this town is so incredibly competent when it comes to servicing such a large crowd, though. After all, with its serene beach scene, excellent fishery, active arts scene that includes the Lighthouse Festival Theatre, and  cool shops such as On the Fringe Leather, this town is focused on visitors all year round no matter what the calendar date happens to be.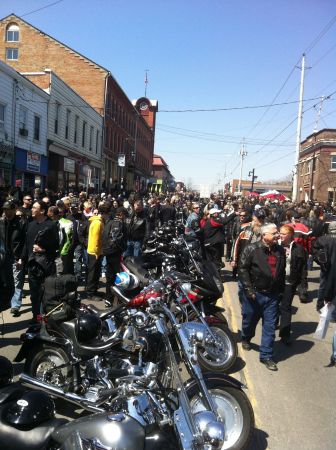 For a full album of pictures from the day, visit the Riders Plus Insurance Facebook Page and view the album. While you're there, go ahead and "Like" the page! See you in Port Dover in July!