The earliest motorcycle show of the 2012 season in Ontario is the Toronto Motorcycle Show at the Metro Convention Centre in downtown Toronto December 9, 10, and 11, 2011. This show is sponsored by the Motorcycle and Moped Industry Council, the group that includes all of the major motorcycle manufacturers in Canada. The timing of this show is very good if you're out there shopping for a Christmas gift for that motorcycle enthusiast in your life.
There will be vendors of various things other than motorcycles, of course, but the main emphasis will be on the new motorcycle model offerings from the manufacturers. A great way to spend a few hours, particularly if you happen to already be downtown in Toronto since parking in the immediate vicinity can be pricey.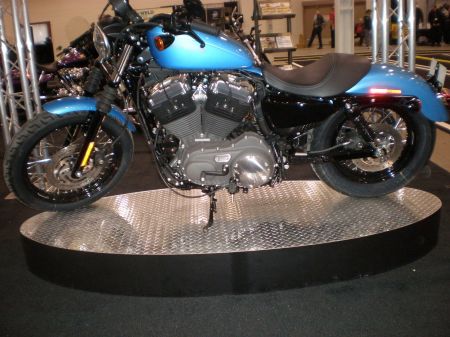 So after the Christmas/New Year/etc. week at the end of December passes, it's time to seriously get into the motorcycle spirit. The granddaddy of all motorcycle shows, The North American International Motorcycle Supershow starts 2012 off with a huge bang on the weekend of January 6, 7, and 8. This event overshadows the rest of Ontario's motorcycle trade shows for many reasons. Easily accessed by motorcycle fans and riders living in the surrounding, heavily populated GTA where the major traffic arteries of the 401, 403, 427, and 407 all come within hailing distance, and with free parking no less, it would be hard to imagine a better venue than the International Centre in Mississauga on Airport Road. Thanks as well to superb management of the event, as well as a host of vendors who offer every conceivable motorcycle related product and service, you can be assured that you will unquestionably get excellent value out of your admission ticket.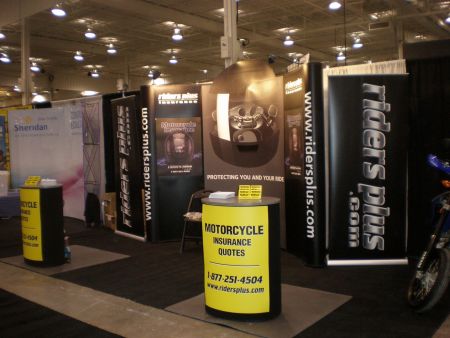 What vendors can you expect to find at the International Motorcycle Supershow? With five huge halls full of vendors, the short answer is "Everybody". Halls 3 and 3A will focus on new 2012 models, with dealer salespeople available to answer questions and, of course, set you up with an excellent deal on a new motorcycle. Kawasaki will have a display this year as well, and they have some of the most interesting and innovative products in the industry. Rider Training Providers such as Humber College, Rider Training Institute, Learning Curves, and Sheridan College will also be in attendance to provide information and advice. Motorcycle magazines, including our good friends at Motorcycle Mojo Magazine, will be in attendance to chat and to set you up with some great subscription options.
The Ottawa International Motorcycle Show will be in its second annual incarnation, and if it's anywhere near as successful as it was last year you absolutely do not want to miss it. Taking place on January 13, 14, and 15, 2012, this show has relocated to the CE Centre, which is a very suitable venue for this event. Vendors such as Classy Chassisand Freedom Harley Davidson of Ottawa will, once again, make this the place to get an awesome deal on a beautiful motorcycle.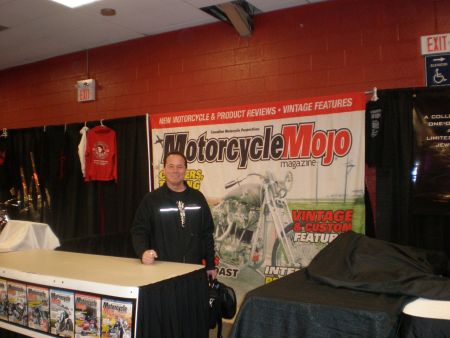 And you will be able to talk to the knowledgable professional rider training staff of Algonquin College and the Ottawa Safety Council, as well as the Rider Training Institute an excellent opportunity for even the most seasoned veteran rider to have a constructive conversation with someone who really and truly knows about safe riding issues.
The first ever Hamilton Motorcycle Show will take place January 27, 28, and 29, 2011. It's about time; this great city is chock full of motorcycle riders, and it makes so much sense to bring a show right to them. This show will be organized by the same team that creates the Kitchener and London motorcycle shows, so it's a safe bet that it will be stocked with lots of great local vendors, and attended by huge crowds.Riders Plus Insurance will have a booth in Hamilton, and we're really looking forward to what is certain to be a really memorable event (with lots of great deals).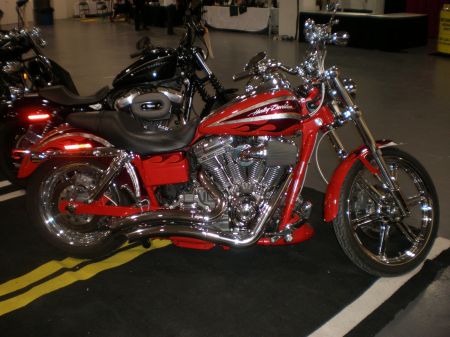 The London Motorcycle Show has been going strong for a number of years again after a bit of a break, and the riders of this motorcycle mecca can once again look forward to a fantastic weekend of motorcycle mayhem on February 10, 11, and 12, 2012. This show will be excellent as always, given the fact that London is central to a large area with a high concentration of intense motorcycle enthusiasts and a high concentration of excellent motorcycle dealerships. Rocky's Harley Davidson, for example, always makes coming to the show worthwhile. Rider training course Fanshawe College is always in attendance as well, and Learning Curves has a London presence now too for everyone looking to get started in the pursuit of riding.
There are more shows after that; the Tri City (Kitchener) Motorcycle Show comes up in March, and so does the Spring International Motorcycle Supershow in Mississauga. But more on those shows later. So mark your calendars and be sure to come by the Riders Plus Insurance booth (and tell them you read about the show right here!)