We've covered ninety-five percent of the body in How to Choose the Right Helmet and How to Purchase the Right Motorcycle Jacket and Pants. Now we'll protect our extremities—hands and feet. They may represent a small part of our body but they play major roles in our independence, freedom, and mobility—all worthy reasons to protect them. As with other gear, prioritize your selection by fit, function, and lastly, fashion.
What to Look for in Motorcycle Gloves
Hands are subject to the same damaging elements—sun, stones, bugs, weather—as our face and body. Outstretched, they're often the first part of your body to contact the ground in a spill.
Well-fitting gloves provide a wide array of protection. They shield your skin from abrasion. They keep hands warm and dry, aid with grip, and prevent blisters and calluses. Most riders have multiple pairs for various weather and riding conditions.
Fit
Snugness. Look for a snug, but not constraining, fit. Try them on, then make a fist like you would while gripping the handlebars. Make sure there's no bunching or binding and that all your fingers extend to the ends of the fingers in the glove.
Dexterity. You should be able to move your hands freely to operate the controls and open and close your visor and zippers on pockets and tank bag.
Ease of use. Look for an adjustable strap to tighten once your gloves are on. This helps them remain securely in place while riding and during an upset. They can't protect if they come off when you need them.
Pressure points. Noticeable discomfort from binding or internal seams when you're trying them on will make you want to tear them off when you're riding. If they don't fit properly, keep looking for another style.
Function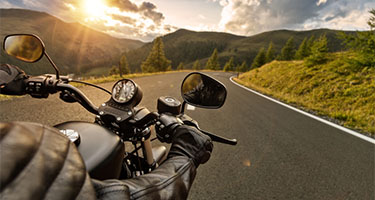 Construction. Inspect seams, lining, and closures for finishing details. Choose high-quality leather or ® and double stitching for seams and padding. When trying on lined gloves, put them on and take them off a few times to assess whether the lining will stay in place with use.
Abrasion resistance. Our skin isn't built to withstand the rigors of even a minor scrape along the pavement. Choose gloves constructed with abrasion resistant fabric and reinforced with extra padding in the palm.
Gauntlet. The incremental two inches of coverage from a gauntlet reduce the likelihood of exposing your wrist. Because gauntlets deflect cold air from going up your sleeve, they're great for cool weather riding.
Ventilation. Even your hands heat up in hot weather. Some gloves have fine holes to promote ventilation in areas less prone to exposure. Large cutouts on the back of the hand or fingerless gloves are not acceptable for safety.
Visibility. Headlights can pick up reflective bits from any hand movement, whether it's hand signals or adjusting your position and alert drivers to your presence.
Water resistance. Buy water-proof gloves if your budget allows. Or, carry a spare pair. Cold, wet hands can make reaching and operating controls difficult.
You touch, feel and sense with your hands. They're valuable tools and your connection to almost everything you do. You want your hands to function for a lifetime. Choose riding gloves wisely.
What to Look for in Motorcycle Boots
Feet are our transportation when we don't have wheels under us. We count on them for balance, traction, and movement. Protecting our feet can mean the difference between mobility and immobility. Good quality motorcycle boots provide traction and aid with balance when you're stopped or moving your bike. They protect against impact and abrasion, and repel rain. At the same time, they're flexible enough to operate the controls.
The style of boot will vary with the type of riding you do. Use these tips as a general guideline.
Fit
Comfort. Happy feet are essential for a comfortable ride. Look for boots that fit snugly around your ankle while allowing you to wiggle your toes. An absorbent lining keeps your feet comfortable in the heat and warm when it's cold.
Adjustability. For boots to protect and stay on in a crash, they must be snug. But, that can make them hard to get on and off. Velcro closures or inner laces protected by a covering offer a solution. Avoid exposed laces as they can get caught when you put your foot down, causing you to lose your balance.
Height. Choose mid-calf boots to protect your feet, shin, and ankles. The ankle is a complex joint with many bones, ligaments, and tendons. An injury to that area can be disabling.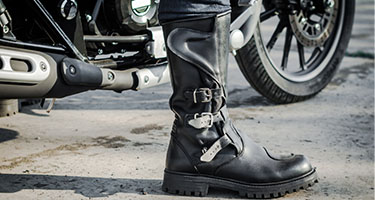 Movement. Boots must offer enough flexibility to allow you to operate the brakes and shifter with ease, be comfortable in the riding position, and allow you to move your feet around while riding. Make sure the toe is slim enough to slip under the shifter (unless you have a heel-toe shifter) and heels don't get hung up on foot pegs.
Function
Traction. Look for oil-resistant soles with good treads. Road surfaces can be slippery and uneven and you want assurance that your foot's not going to slide away when you put it down.
Armour. Extra reinforcement for toes, ankles, and shins gives you more stability as well as protection.
Abrasion resistance. A quality exterior will stand up to scraping along pavement. That unplanned event may wear some of the surface off the boot, but better that than your foot.
Water resistance. Ideally waterproof. Good boots keep water away from your feet with an effective surface and well-constructed double seams.
Visibility. Even your feet play a role in making you conspicuous to other road users. Headlights pick up reflective surfaces on heels and the sides of your feet and help alert drivers to your presence.
Breathability. Feet get hot when they're closed up for extended periods. A certain amount of this is unavoidable but high-quality material and design can minimize it.
Do your research thoroughly before purchasing riding boots. The initial cash outlay may be high, but they're a wise long-term investment. Not only will they last longer in comfort, but they'll also do a better job of protecting your feet. There's no price tag for that.