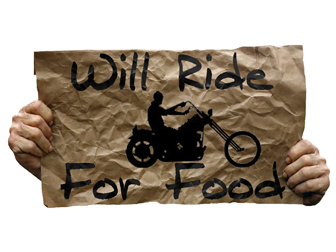 The Riders Against Hunger Ride is a first-time poker run-style motorcycle charity ride in support of Eden Community Food Bank in Mississauga. It is open to all riders, clubs and makes of motorcycles. We are anticipating 100 bikers to participate in this first-time event. 100% of what the riders raise will go directly to purchasing and distributing food to hungry families in western Mississauga.
The August 20, 2011 date is perfect; kids will soon be going back to school, and if they are to learn properly they need good lunches, dinners, breakfasts… so come on out and have a good time with other like-minded motorcycle enthusiasts while contributing to a problem that is a huge wrong in a society as rich as ours.
For more information go to the Riders Against Hunger website . Corporate sponsors, contact Bill Crawford at 905-785-3651 ext 4 because they can always use more sponsors.