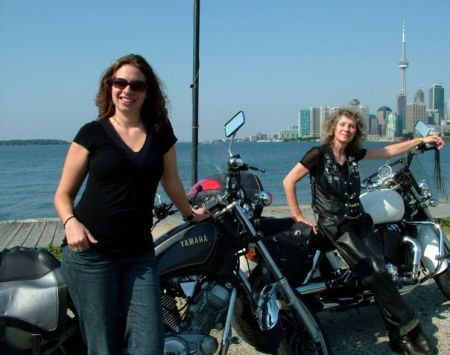 Not so long ago, my mother and I began a new adventure that we would LOVE to invite you to. In August of 2010, leaving from St.John's, NFLD Mother Daughter Ride will lead motorcycle riders on a 24 day trek across Canada, ending in Vancouver, BC. In partnership with SOS Children's Villages, a national and international charity supporting orphaned and abandoned children, all proceeds will be used to enable them to receive an education, a home and create a sustainable life.
Over the next 7 months, the Mother Daughter Ride will begin raising $2M through national sponsorships, donations, pledges and events. Motorcycle riders, clubs and associations will be uniting in a relay style ride, garnishing national and local media attention for the cause and our sponsors.
The Goal: for riders to experience Canada and have an amazing adventure raising $2 Million in order to offer kids a home, an education, health care, vocational training and hope for the future.
Our Mission is to unite individuals to ride across Canada, or part thereof, and raise awareness and funds for a part of society that does not have a strong voice – children.
Our Vision is to inspire those in our reach to believe in themselves and others enough to acknowledge their presence and impact. We believe in bringing people together in order to bring peace to ourselves and our surroundings. Our vision is to help provide a sustainable future that includes individual action, no matter how small.
The Mother Daughter Ride is about more than just the ride and the charity. It's about providing a forum formotorcycle riders to come together and create change. It's about engaging individuals and providing them with an opportunity to experience and share an adventure. It's about inspiring individuals to follow their dreams and act beyond the fear. It's about bringing people together and creating a dialogue around giving. The Mother Daughter Ride is about showcasing the power of the individual and the impact of a community.
In order for the vision of MDRide to become a reality, we need your help! The beauty of MDRide is the simplicity of its endeavor. Join us for the ride, parts thereof, or at our event in your community. Each evening of the ride, different groups & individuals of the community we pass through will gather and spend an evening uniting, bonding and inspiring others that giving is easy and rewarding.
To find out more about Mother Daughter Ride, our route and how you can get involved visit http://www.mdride.com/.
We look forward to welcoming you to the ride and spending August getting to know you!