As the riding season coughs to life according to the whims of Mother Nature, many riders in Ontario are looking for that perfect little weekend getaway. Niagara Falls is, in so many ways, absolutely ideal. Breathtaking sights, a hospitality industry that can attend to any of your needs or wants, accessibility to Ontario's largest population centres, and, most importantly, an eagerness to welcome motorcyclists are some of the top reasons to visit Niagara Falls this Spring.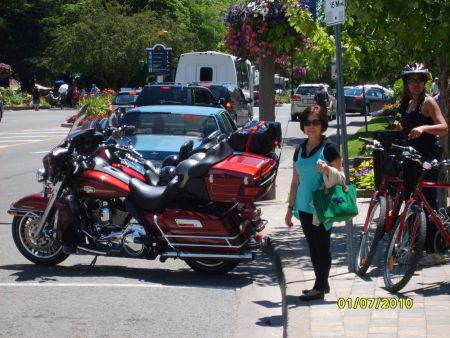 The Niagara Falls Business Association (Fallsview BIA) organized a Niagara Biker Rally in June over the Father's Day weekend, and attendance was excellent. Riders came from all over Ontario as well as from neighbouring New York State. The proximity of Niagara Falls to the large population centres of the Golden Horseshoe of Ontario such as Toronto, Hamilton, St Catharines, and Kitchener-Waterloo makes it a great weekend getaway destination for those with tight schedules, and there are plenty of options for getting there in terms of major highways or beautiful, well maintained secondary roads. The routes are endless, and the options for sightseeing in the Niagara Region are vast, so make your GPS earn its bread by giving you some alternate routes.
Niagara Race Crafters is a local Kawasaki motorcycle dealership that is flourishing and warrants a visit for all of you Vulcan and Ninja riders. Clare's Harley Davidson of Niagara is a must see for the Harley rider who needs the Clare's t-shirt for her collection or whatever other Harley souvenir they fancy. Niagara Falls is home to a very significant motorcycle riding population, so the motorcycle dealerships in and around the area are some of the best you will find anywhere for service as well as for merchandise. Needless to say, they also sell a lot of motorcycles.
Hotels, motels, and Bed and Breakfast establishments abound in and around the city of Niagara Falls. Deals for weekends, especially in the Spring before the heavy summer season hits its fever pitch, can be phenomenal on such websites as Hotwire or Expedia. Your biggest problem will be deciding whether you want a room overlooking the Niagara River or the Falls themselves, or whether you want a nice little bed and breakfast in the countryside. Every conceivable kind of room for any budget is available as you will discover. The service industry is clearly at the core of the identity of Niagara Falls, and it shows time and time again that Niagara Falls folks know how to take care of you.
If you want to do something in the evenings after long days of riding and checking out the restaurants of the Niagara Region, you can always go to the new Fallsview Casino. Overlooking the Falls, with nightly shows by some of the biggest names in the entertainment industry and tons of slot machines and gaming tables, this is a casino that ranks up there with the best of them. The buffet is incredible, and the theme of the buffet restaurant is pretty cool as well (we'll let you find that out for yourself).
Niagara Falls is, among other things, home to a highly respected wine industry. Wine Tours of both the country surrounding the Falls and the vineyards themselves are endlessly fascinating. Many of the winemakers of the area have won awards all over the world, and Niagara Falls is especially renowned for its ice wine. The surrounding countryside provides no end of pleasant surprises, from a huge clock decorated with a garden of flowers to the outlying town of Niagara On the Lake with it's boutiques, restaurants, and Shaw Festival Theatre.
Ontarians are generally less than enthusiastic about the idea of visiting the actual Falls for a number of reasons. First, they have probably gone there many times to take visitors from outside the area since it's almost a mandatory tourist stop. Also, it simply isn't terribly cool to get all excited about going to the Falls. But be honest: every time you stand at the rail overlooking the Falls, almost deafened by the thunderous sound of the water that drowns out the loudest Harley pipes, getting gradually soaked from the mist that rises hundreds of feet, and really look at just how absolutely magnificent this spectacle is, you have no choice but to be humbled and impressed.
So many more attractions and events await you in Niagara Falls once you ride into town. For an exciting spectacle, check out the Niagara International Marathon which takes place every October.Marineland is on the edge of town and has a vast array of animal displays and rides that can fill a few hours with fun. And, although the surge of the Canadian dollar recently has made this statement slightly less true, the Niagara Factory Outlets on Lundy's Lane has some truly incredible deals on everything from Samsonite to Nike. You will certainly want to haul the trailer behind your motorcycle to fit in all the loot if a trip to this shopping mecca is within your timetable.
So what it boils down to is the fact that a weekend jaunt on your motorcycle to Niagara Falls, Ontario is a no-risk option. You can't help but find something to do, and you will be hard pressed to find riding that's any better or more convenient.
One last thing: be sure to go to the Riders Cafe Forum and tell everyone about your adventure when you get back.