The Harley Davidson marque is one of the most recognized, most accepted brands in the world. However, the appeal of this brand needs to be expanded to younger demographics, people who don't have nostalgic leanings to the '50's or '60's and simply want cool motorcycles that are affordable and economical.
According to reliable reports, the recent design changes with the Sportster line have almost reached their logical end. There was talk of introducing a Fat Boy Hugger, but cooler heads prevailed when the creepiness of that name became evident. Similarly, the idea of nudging into the Enduro style market to capture riders of Trans Alp and other models hit a dead end when the name Trans Fat Boy was deep sixed in a hurry.
Harley's marketing and design people have been puzzling over this issue for a few years now, and the downturn in the American economy has made the issue all the more urgent. Plans to modernize the model offerings of America's motorcycle have been fast tracked, so you can expect to see some radical developments as early as 2012.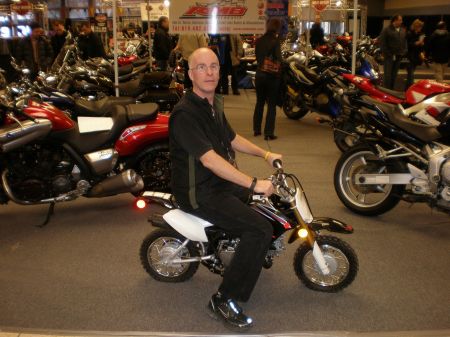 You read it here first: a new Harley Davidson modelled after, and perhaps even built by the Chinese division of, Daymak, will soon be unveiled. Code named "The Harley Davidson Scooter Initiative", this change in direction is expected to cause quite a stir in the motorcycle community. Initial enthusiasm from the average Harley rider is expected to be muted, perhaps even confused, and quite possibly angry.
The effects on motorcycle culture could be dramatic. Clubs of beefy weekend warriors who rapidly expand the CMG Mad Bastards Scooter Rally to a national event of unimagined proportions could be one result. The sound of a scooter approaching could eventually strike fear in the hearts of innocent civilians. Stay tuned for further developments.