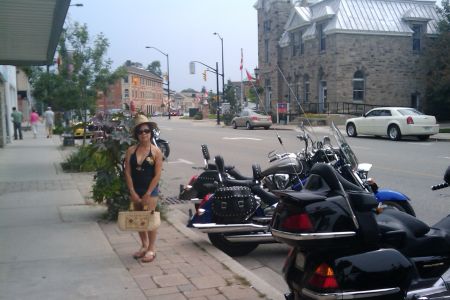 You really have to love the month of June. The unpredictable May bouts of chill and rain are less likely to hit once June arrives. Roads are almost certainly washed clean of sand, salt, and gravel from winter anti-ice campaigns. The lush green of spring hasn't yet faded with the onset of summer. Warm days are frequest, but the full blast of summer hasn't as likely made riding in full leathers as hot and uncomfortable as it can potentially get as the dog days settle in later. In other words, June is one of those excellent riding months.
Partly as a result of this fortunate temporal placement, June is a month that is chock full of charity rides in every corner of the province of Ontario. We're going to mention and link just a few in this article. Charity rides have long been an integral part of the activities of Ontario motorcycle riders for many reasons. These rides raise money for good causes, of course. However, they also provide an opportunity for motorcycle riders to get together and socialize, check out each other's bikes, and simply have a good time riding.
The Motorcycle Ride for Dad takes place in various locations across Canada, and on various dates. Durham and Peel Rides both take place on June 11, 2011. Money raised from this huge effort goes to fight prostate cancer, a leading killer of men in their mid-life years. The organization and execution of this massive event are second to none, and we salute the work of everyone who is involved, as well as the involvement of the thousands of riders who go out there every year. If you haven't ridden in a Ride for Dad yet, seriously consider doing so this year.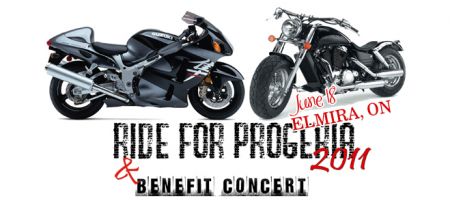 The Ride for Progeria in Elmira, Ontario on June 18, 2011 is an excellent example of a ride that combines all of the elements of a great ride. It's for a good cause; there will be extremely cool tunes courtesy of West Memphis Suicide; the prizes will be amazing; the organization is thorough and detailed; and you're going to have an incredible ride through some beautiful country.
The Motorcycle Ride for Darrell in Windsor, Ontario on June 11, 2011 is one of those rides that makes you fiercely proud of the firefighters and other local organizations such as Thunder Road Harley Davidsonwho are putting it on to help out a brother, Darrell Ellwood, who has been fighting cancer. This is an excellent example of the cameradery you often find in the Ontario motorcycle community.
Ashley's Angels Motorcycle Ride on June 18, 2011, also demonstrates that spirit of generosity that brings riders together for a vital cause. This ride benefits the Hospital for Sick Kids Liver Transplant Research. The ride from Barrie to Port Severn will be a scenic trek, and many more bells and whistles appear to be in the works for the event.
The UpperCan 400 Moto Rally – Ride for Kevin takes place on June 18, 2011 across southern Ontario to benefit Spinal Cord Research and Rehabilitation. Donations will go to the Rick Hansen Foundation. This ride is more of a rally in concept (hence the name), which makes it all the more fun.  Visit the Uppercan400 website for more details.
A very comprehensive list of these and many other rides in Ontario can be found at the Bike Rides website. The Bike Rides website also provides links for further information on those rides.
If you know of, or are involved with, any rides that are not mentioned here, by all means help us to let the riders of Ontario know about your ride. Go to the  Riders Plus Cafe Forum and post something about your ride. If you like, you can also email info@ridersplus.com with details that can be posted as an article. Riders Plus wants to get the word out on as many of these rides as possible; if we can help to enhance the success of these rides since you are already putting in a great deal of effort to stage the events, we're more than pleased to be of assistance.