The world needs lots of smaller motorcycles for a lot of reasons. Truly impressive gas mileage is one very good reason. Affordability is another. Maneuverability for smaller, less experienced riders is infinitely greater, and experienced riders know that it's a real thrill to take a smaller, lighter bike through its paces once in a while.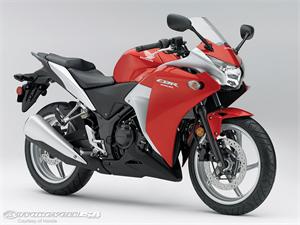 Motorcycle manufacturers seem to have ignored the small bike market through the 90's and the past decade. Both cruisers and sport styled motorcycles kept getting bigger, more powerful, and faster, and the beginner rider had very little choice in the 500 cc and under category. Granted, Kawasaki faithfully pumped out 250 and 500 Ninjas, and Suzuki had the GS500 on the market, but until now Honda had nothing below 600 cc in the street category.
That has changed in a big way. The 2011 Honda CBR250has attracted a flurry of attention at motorcycle shows such as the2011 International Motorcycle Supershow in Mississauga, Ontario, as well as online at Honda Canada and at Honda dealerships across the province. As you can see, this is a smart looking bike, with a reliable single cylinder Honda engine and Honda reliability built into the entire package.
The CBR250 is aimed at beginner riders, but with such technological perks as fuel injection, this is a bike that doesn't skimp on the details. With fuel capacity of 3.5 gallons and a weight of 368 pounds, this motorcycle should have a cruising range of close to 350 kilometres.
Priced at $4934, this is a very reasonable purchase, and undoubtedly the resale value will be very strong. Get a motorcycle insurance quote for the 2011 Honda CSR250 right now at Riders Plus Online.